15.07.2008
Photos: Vesa
It was a beautiful day when we arrived to the Copenhagen Zoo (Zoologiske Have in Danish). There was a long queu so we had to wait almost an hour before we could get in but when you're waiting for something good....Since our time was limited we decided to spend most of our time with the polar bears, brown bears, elephants and the big cats. Unfortunately the big cats are just like their smaller cousins - they love to nap a lot so we could only see a tail here and a couple of ears there. That's why we have no photos of the kitties. In the Copenhagen Zoo they are working with a special Amur Tiger project and the tiger we saw looked very impressive.
We started our tour with the lions but they were all having their beauty sleep.
The seelions were sunbathing
This little fellow is a newborn seelion cub - I couldn't find out how old (or young) he/she is but I guess the cub is only a few weeks old.
 Wanna hear som juicy gossip???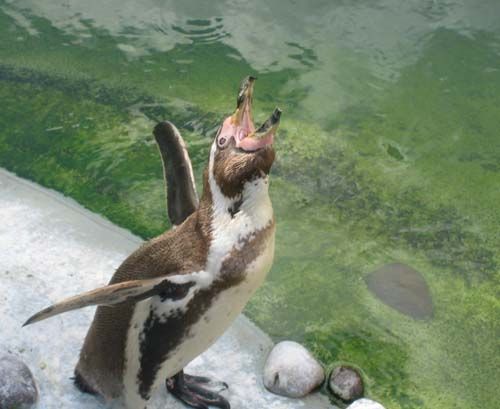 There's a brand new elephant enclosure - or rather a small elephant world! We were very impressed to see how wonderful surroundings our big friends have in the Copenhagen Zoo.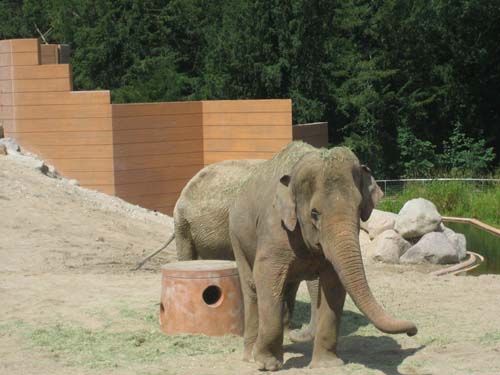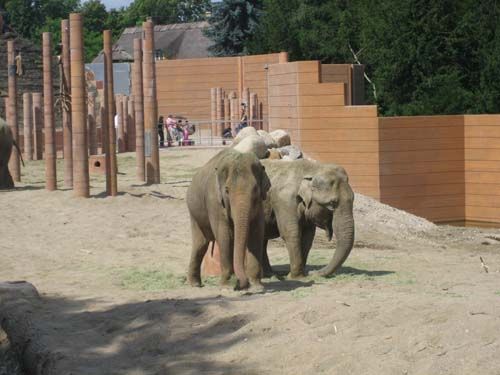 You can get amazingly near the elephants. There are paths for the visitors and it really makes you feel you're walking among the Dumbos!
After admiring the elephants and their new home we went to the brown bears. There was a mother with two cubs - again no information about their age but my guess is that they are about 1 year...
Mama Brownie seemed to be a very good entertainer. She does look very mighty, doesn't she?
Do you all see how clever I am? Please, hurry to take your photos - I can't stay like this forever!
Hmmm, I think I have to take more lessons before I can do what mommy does....
We really enjoyed watching the brown bears but now it was time for the highlight: the polar bears!
There are two polar bears - a male and a female. They were having such fun together but I think I noticed they were acting like a married couple.....a little gnagging and yakatiyaking while they were swimming, hahaa...
I liked these white things that look like little ice plattforms. I don't know what the material is but I think Knuti would like to have some of these floating in his pool. The bears had some wooden toys, too, but in my opinion the enclosure was very 'sterile'. I think Knuti's enclosure is actually very cosy!
Synchronized swimming!
Some hanky panky - we want to make our visitors happy! They just love to see us kissing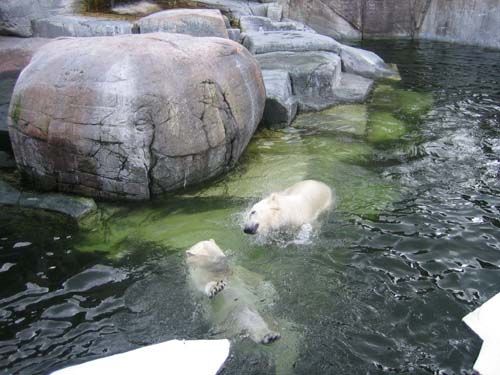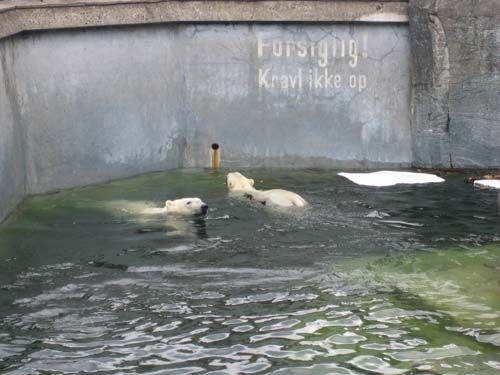 Have you noticed anything strange? Why haven't I called the animals by their names? I asked Inge who lives in Copenhagen why there were no signs telling us the names of the animals and she told me that in the Copenhagen Zoo the animals are considered to be representatives for a species and that's why they don't see them as individuals...I'm not sure I like this way of looking at things..as a matter of fact I don't like it at all!! We humans are also representatives of Homo Sapiens - how would we feel if we had no names and no identity..If our only task  was breeding - well, then I would be seen as a totally useless person because I have no children....Well, I'm sure the keepers have given names to their 'babies' but they are not allowed to tell that to the public.
The Copenhagen Zoo is a marvellous place to visit - especially for families who want to have picknick there. There are wonderful places to put your blanket and picknick basket and at the same time you can watch the animals. But still, something was missing. I had thousands of questions to ask but we didn't meet a single keeper who could have answered us. That's the charm of the Berlin Zoo - there's always someone to answer your guestions. All the keepers are more than willing to tell about their animals. That's something very special and it makes the Berlin zoo a very friendly, cosy place to visit!
Well, that's it. I hope you enjoyed our little tour!