Es war der 6. 9.2008.Es war Fütterungszeit.Der Bereich um das Gehege war überfüllt.Eine Menge Knutianer und andere Besucher, und natürlich Knut warteten auf den großen Moment.


Dann erschien TD mit einem großen Eimer leckerer Sachen die Knut so sehr mag.TD grüßte mit einem kleinen Lächeln,stieg über der Zaun,und die Fütterung begann.
Ein Stück nach den anderen wurde ins Gehege geworfen.Knut sollte jeden Leckerbissen einzeln fangen.Er musste kreuz und quer durch Gehege laufen oder springen.
Von meinem Platz konnte ich TD sehr gut beobachten.Er stand dort wie in einem Vakuum,ohne die vielen Leute in seinem Rücken.Er bekam leuchtende Augen als er sah wie Knut nach seinem Futter sprang,tauchte und von einer Ecke zur anderen lief,um die Leckerbissen zu ergattern.Ich hatte das Gefühl Zeuge eines sehr privaten Augenblicks dieser besonderen Mensch – Tierbeziehung zu sein.Und beide schienen diesen gemeinsamen Moment sehr zu geniessen.Ich werde diesen glücklichen und stolzen Gesichtsausdruck von TD nie vergessen.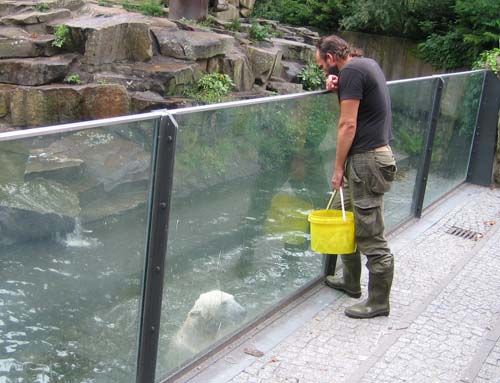 Photo: Vesa
My most beautiful moment between TD and Knut was at the 6.9.08.It was feeding time.The area round the enclosure was overcrowded.A lot of Knutians and other visitors and of course Knut were waiting for the big moment.

Then TD arrived with a big bucket filled with all the yummy things our Knut loves so very much.With a little smile on his face TD crossed the fence and the feeding began.
Piece by piece was thrown into the enclosure.But Knut had to catch one after the other.He had to run or to jump from one corner to the other,or he had to dive into his moat to get the fishes,the meat,the grapes and a big pumpkin.
From my place I could watch TD.It looked as like he stands into a vacuum.No people in his back.Only Knut and himself.He had a smile on his face and bright eyes,when Knut jumped and run to catch his food.It was a big fun between those both,the man and the bear, and they enjoyed it very much.I felt like a witness of a very privat moment in a very special relationship.TD´s mien was full of proud and he seemed to be very lucky at this moment Whenever I think of TD and Knut I see this moments,I will never forget it.