In the morning
 
-Kling, kling, kling! Knuten Morgen, Knut! 
- Oh, Uncle Ronny and Uncle Marcus! You look so sad. Are you crying? Your eyes are red...
 
- Yes, we are crying because we are very sad. We have some very sad news for you. 

- Yes, I know. Daddy was here very early in the morning. He told me that my dear uncles would soon visit me to break some very bad news.
 
- What? Do you mean Thomas was here?


- Oh yes, Daddy Thoms was here early this morning. He told me he's now working at a zoo in heaven. He said he's got a lot to do there.

Daddy also told me he won't be throwing any surprises over the wall in the future. No Daddy pants anymore.

 He will never feed me again. He will never call me again. But he also said that you, Uncle Ronny and you, Uncle Marcus will feed me as lovingly as he did. Could you call me Mäuschen just like Daddy did? All the fans that love me  - aunties and uncles will bring or send me presents, too....

- Is there something else you'd like to tell us, dear Knut?


- Daddy told me, too, that he will visit me every morning. Then we make plans for what I will do during the day: dive in my pool, play, take a nap, have fun with my fans, test my new toys...
Daddy will even visit me every evening. Then he will sing for me. He will bring his guitar with him and we'll sing 'Love me tender' together! It's an oldie but Daddy loves it. After that Daddy will tell me about the animals in the Heaven Zoo, about old and young animals, about pets like cats and dogs, wild animals like bears....all very nice animals!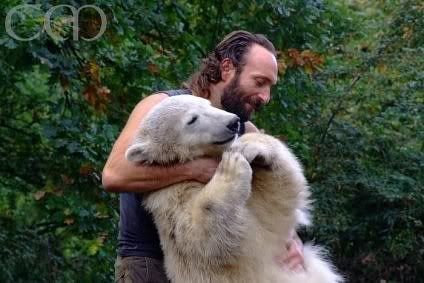 Daddy also told me that:
When A yellow autumn leave land on my lakritznase it's Daddy kissing my cute nose.
When the snowflakes dance on my fluffy fur it's Daddy caressing me.
When the raindrops make my fur wet Daddy wants us to go swimming with me.
When the stars are twinkling in the sky it's Daddy waving to me.
When the flowers are in full blossom in the Spring - then I can smell the scent of Daddy.
THANK YOU DADDY! I WILL ALWAYS LOVE YOU!
THANK YOU KNUT, MY DEAR SON!  I LOVE YOU FOREVER!
By Teddybärenmutti
Photos by Marion K and Christina M