04.07.2008
Story and images by Mervi
Originalphotos by Hartmuth
Ûbersetzung/Translation: Doro II
Hello friends!This is my special summer newsletter for you.
I want you all to relax! In my opinion you people are very funny (in a strange way!) - you work like maniacs a whole year and when you finally have your vacation and some time to take it easy - what do you do? Well, I'll tell you what most of you do - you find thousands of things to do during your leisure time instead of enjoying the lazy days!! Why don't you buy a hammock and lie there listening to the birds singing or the waves of the see, read a good book, meditate or just think of ME!!
Zeit zum Relaxen!
Hallo, Freunde! Hier ist mein ganz spezieller sommerlicher Newsletter für euch.
Bitte entspannt euch! Meiner Meinung nach seid ihr Leute reichlich komisch - ihr arbeitet das ganze Jahr über wie die Verrückten, und wenn ihr dann schließlich Urlaub habt und es ruhiger angehen lassen könnt - was macht ihr statt dessen? Also, ich sag euch mal, was die meisten von euch dann tun. In eurer Freizeit macht ihr tausend Dinge statt so richtig zu faulenzen!! Warum kauft ihr euch nicht eine Hängematte, lauscht dem Gesang der Vögel oder den Meereswellen, lest ein gutes Buch, meditiert oder denkt einfach an MICH!!
.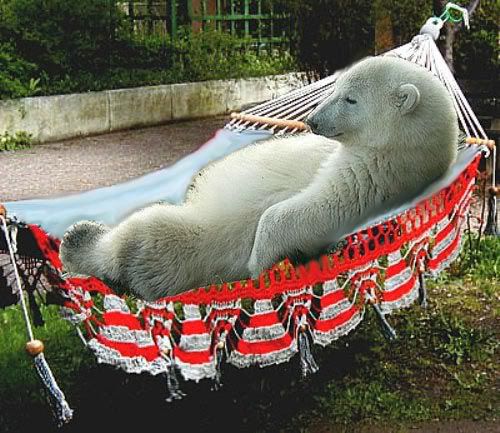 Stress isn't good for your digestion! Neither is the sun so when I'm sun bathing I cover my gorgeous belly with a sombrero!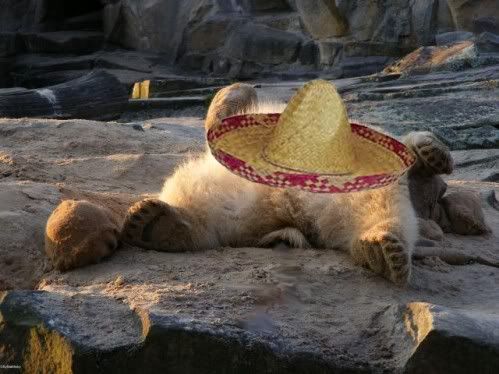 Stress ist schlecht für die Verdauung! Auch die Sonne ist nicht gut. Wenn ich ein Sonnenbad nehme, dann decke ich meinen supersüßen Bauch mit einem Sombrero zu!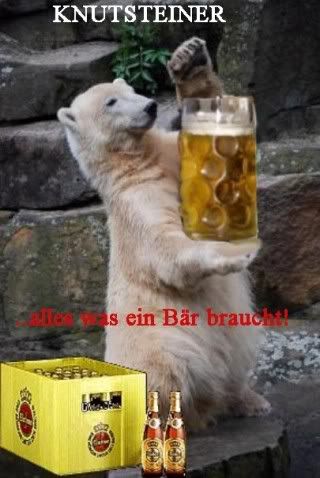 I have been working with new products, too. I have now my own beer - Knutsteiner - alles was ein Bär braucht! It's a very good bear - so I've heard. I'm too young to drink that stuff myself but Daddy and the Uncles were very satisfied when they were sampling it! 
Außerdem habe ich an neuen Produkten gearbeitet. Ich habe jetzt mein eigenes Bier - Knutsteiner - alles, was ein Bär braucht! Das ist ein sehr gutes Bier, wie ich gehört habe. Ich bin noch zu jung, um das Zeug selbst zu trinken, aber Daddy und die Onkel waren damit sehr zufrieden, nachdem sie es probiert hatten.
Another new product is Berliner Weisse mit Tschüss - it's specially made for the journalists of the yellow press and the Man with the Ladder!!
Ein weiteres neues Produkt ist Berliner Weiße mit Tschüss - extra für die Journalisten der Boulevardpresse und den Mann mit der Leiter hergestellt!!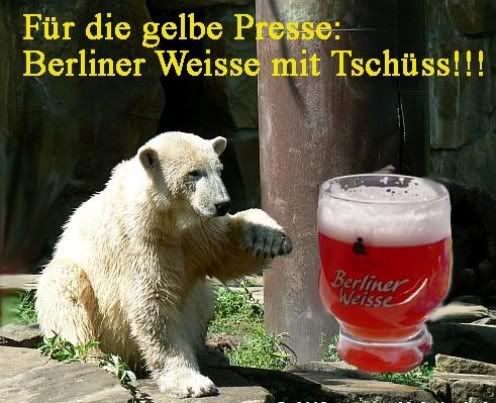 One of the highligts of this week was a visit to the Knuipe. Daddy wanted to teach me how to behave in a restaurant - he's always very particular about my manners! I think I behaved like a man of the world. I asked very politely to see the menu and didn't forget to say 'thank you' and 'please'! I also wanted to pinch the waitress you know where but  Daddy cried 'STOP' - I find it very difficult to understand why!! The humans have no sense of humour! Well, anyway, I started with a sallad (see the picture) and then I had salmon and croissants. As a dessert I was served a very juicy pumpkin! Nam-nam-nam!!!! Daddy just had a beer. Oh dear, it's been a lot of beer this time but of course, it's been very hot and we need to drink much.
Eines der Highlights der Woche war ein Besuch in der Knuipe. Daddy wollte mir beibringen, wie man sich in einem Restaurant benimmt - in Bezug auf meine Manieren ist er sehr eigen! Ich glaube, dass ich mich wie ein Mann von Welt benommen habe. Ich habe sehr höflich nach der Speisekarte gefragt und habe auch nicht vergessen, danke und bitte zu sagen! Eigentlich wollte ich die Kellnerin ja in den ihr-wisst-schon-wohin kneifen, aber Daddy hat STOP geschrien. Ich verstehe gar nicht so recht warum!! Die Menschen haben überhaupt keinen Sinn für Humor! Na ja, was soll's, ich habe mit einem Salat angefangen (siehe Bild) und hatte dann Lachs und Croissants. Als Nachtisch wurde mir feiner Kürbissaft kredenzt! Echt lecker! Daddy hatte nur ein Bier. Lieber Himmel, das war diesmal ganz schön viel Bier, aber natürlich ist es sehr heiß, und da müssen wir viel trinken
Don't you think that waitress looks familiar? I could swear I've met her before....
Kommt euch diese Kellnerin nicht bekannt vor? Ich könnte schwören, dass ich sie schon mal gesehen habe …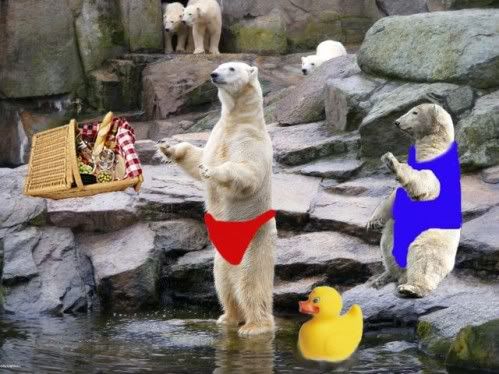 Monsieur Knuves has designed a bathing suit collection and Papa Lars chose this hot red version. Look how Mama Tosca, Nancy and Katjuscha come running. Maybe I should look away for a minute or two...een kleenet Kind is not supposed to see everything...Of course, it is also possible that the ladies have sensed the smell from the picknick basket! Since I'm still a teenager I've chosen a little less sexy version - I think I'm hot enough as I am, hahaa...Don't you agree?
I wish you all a wonderful summer and remember:
DON'T WORRY - BE KNUPPY!
Monsieur Knuves hat eine Kollektion mit Badeanzügen kreiert, und Papa Lars hat diese heiße rote Version gewählt. Schaut doch mal, wie Mama Tosca, Nancy und Katjuscha angerannt kommen. Vielleicht sollte ich mal kurz wegschauen … een kleenet Kind muss ja nicht alles sehen … Natürlich ist es auch möglich, dass die Damen den Duft gerochen haben, der aus dem Picknickkorb kommt! Da ich noch immer ein Teenager bin, habe ich mir eine geringfügig weniger sexy Version ausgesucht - ich finde, dass ich auch schon so ein heißer Feger bin, hahaa … Meint ihr nicht?
Ich wünsche euch allen einen wunderschönen Sommer, und denkt dran:
DON'T WORRY - BE KNUPPY!