Written by Knuti (with a little help from Mervi)
Originalphotos by Christina M, Simone R, Viktor, Hartmuth
Special thanks to Doro II, Elke Frank, Danielle and Ursi for the ideas
Übersetzung/Translation: Doro II
Hello everybody! I'm very proud to inform you that I've opened Knuti's Beauty Parlour for bears and Knutians! The first thing I had to do was to develope some new products. I've been very creative if I may say so myself!
Hallo, alle miteinander! Ich bin stolz darauf, euch mitteilen zu können, dass ich für Bären und Knutianer Knutis Schönheitssalon eröffnet habe! Als erstes musste ich einige neue Produkte entwickeln. Ich bin dabei äußerst kreativ gewesen, wenn ich das mal so sagen darf!
Since it's been very hot lately many bears and people were sweating a lot and everybody was very worried about how to stay fresh and non-smelling all day. Here's my solution: The Knuseido Deo keeps you fresh from the early morning till late at night!
Bei dieser großen Hitze neulich haben viele Bären und Leute unheimlich geschwitzt, und alle haben sich Sorgen gemacht, wie man den ganzen Tag lang frisch bleibt und nicht unangenehm riecht. Hier ist meine Lösung: Das Knuseido-Deo macht euch frisch, und zwar vom frühen Morgen bis spät in die Nacht hinein!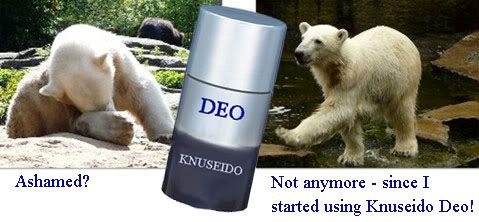 Are you having the same problem as I have? Removing make up with a jutebag really isn't the best way. Don't worry - your problems are over! Being the innovative bear I am I've created Knuti's Magic Face Wash for you. What a difference!!!
Habt ihr dasselbe Problem wie ich? Es ist nicht gerade toll, das Make-up mit einem Jutesack abzuwischen. Macht euch keine Sorgen - eure Probleme sind vorbei! Da ich ein innovativer Bär bin, habe ich Knutis Magic Face Wash für euch kreiert. Was für ein Unterschied!!!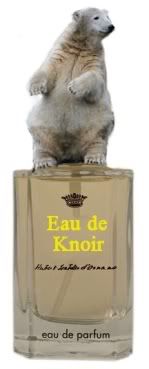 This perfume is especially created for my fans. I've designed the bottle myself. I hope you like it! I think that Eau de Knoir should be every Knutian's choice! Don't forget to tell you knusbands/boyfriends about this perfect present! I hope this perfume will soon be available in all the taxfree shops, too....
Dieses Parfüm wurde speziell für meine Fans entwickelt. Ich habe die Flasche eigenhändig entworfen. Hoffentlich gefällt sie euch! Ich glaube, dass sich alle Knutianer für Eau de Knoir entscheiden sollten! Vergesst nicht, euren Ehemännern/Freunden von diesem perfekten Geschenk zu erzählen! Ich hoffe, dass dieses Parfüm demnächst auch in allen zollfreien Shops erhältlich ist …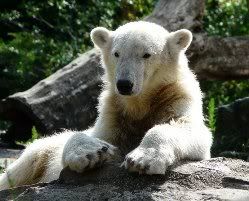 As you may know we bears never shave - well, neither do some people, just look at Daddy! We don't need any after shave lotion but since we also want to impress the babes by smelling good I've created Knuti's Never Shave Lotion! I can assure you this lotion makes you feel like the most handsome guy in the world! Satisfaction guaranteed or you get your money back!!
Wie ihr vielleicht wisst, rasieren wir Bären uns nie - na ja, das gleiche gilt auch für einige Leute, schaut euch doch nur Papi an! Wir brauchen eigentlich kein After Shave, aber da wir auch die Mädels mit unserem Duft beeindrucken wollen, habe ich Knutis Never Shave Lotion kreiert! Ich kann euch versichern: Mit dieser Lotion werdet ihr von euch selbst hingerissen sein! Zufriedenheit ist garantiert, oder ihr bekommt euer Geld zurück!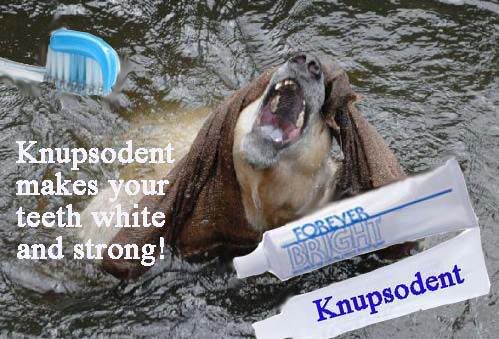 I read in a newspaper that David Beckham's breath smells like fish so we have a lot in common! Being a great admirerer of Davey I decided to help him by developing a sensational knoothpaste Knupsodent! It will not only make your teeth white and bright but it also makes them very strong.
In einer Zeitung las ich kürzlich, dass der Atem von David Beckham irgendwie fischig riecht, also haben wir eine Menge gemeinsam! Als großer Bewunderer von Davey habe ich mich entschlossen, ihm zu helfen. Also habe ich die sensationelle Zahnpasta Knupsodent entwickelt! Die macht eure Zähne nicht nur weiß und glänzend, sondern auch richtig kräftig.
I'm always very particular about my beautiful fur and the new K'Nureal Fur Shampoo for Bears really does the trick! I even designed an elegant bathing cap to go with the shampoo. Don't I look cute??
Ich bin mit meinem wunderschönen Fell immer sehr eigen, und das neue K'Nureal Fell-Shampoo für Bären erfüllt tatsächlich seinen Zweck! Ich habe sogar eine elegante Badekappe zum Shampoo entworfen. Sehe ich nicht süß aus??
I know I've become a trendsetter in the Knutian world so here's the latest trend: The Daddy Look. In my Beauty Parlour we help you with  fur/hair extensions and we even sell golden earrings to complete the look! I think I look like the son of my father!
Ich weiß, dass ich in der knutianischen Welt zum Trendsetter geworden bin. Hier ist der neueste Trend: Der Papi-Look. In meinem Schönheitssalon helfen wir euch mit Fell-/Haarverlängerungen und verkaufen sogar goldene Ohrringe, damit der Look perfekt ist! Ich sehe doch wie der Sohn meines Vaters aus, gell?
 

One of the secrets with my good looks is that I never ignore my need to get  enough sleep! May I remind you ladies in your best age that if you don't have your beauty naps often enough your faces will  soon have a great resemblance to raisins!!
Eines der Geheimnisse meines guten Aussehens ist, dass ich niemals vergesse, genügend zu schlafen! Darf ich euch Damen im besten Alter daran erinnern, dass eure Gesichter irgendwann eine große Ähnlichkeit mit Rosinen haben werden, wenn ihr nicht oft genug euer Schönheitsschläfchen haltet??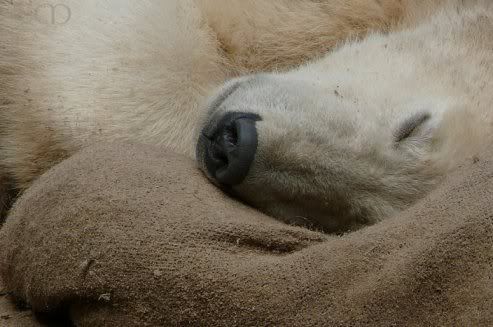 Daddy has always told me that it's the inner beauty that counts! I'm still a very young bear and don't understand everything but I think that inner beauty means a full stomach. Here I am trying to maintain my inner beauty by eating the yammy stuff Daddy brought me!
Papi hat mir immer erzählt, dass die innere Schönheit zählt! Ich bin noch immer ein ganz junger Bär und verstehe nicht alles, aber ich denke, dass mit innerer Schönheit ein volles Bäuchlein gemeint ist. Hier seht ihr mich bei dem Versuch, meine innere Schönheit aufrechtzuerhalten, indem ich all die leckeren Sachen verspeise, die Papi mir gebracht hat!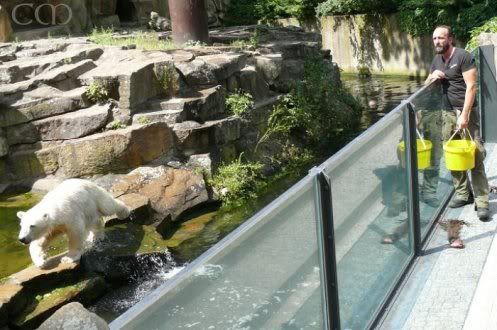 Well, that's all for now but I'll be very grateful if you'll give me more ideas of how to make you and me look better and smell less fishy!
Yours sincerely,
Knuti the Trendsetter
Nun, das ist alles für heute, aber ich wäre euch für weitere Ideen sehr dankbar, wie man noch besser aussehen und weniger fischig duften könnte!
Mit freundlichen Grüßen,
Knuti, der Trendsetter