It's time for the Newsletter 4/2008 from Knutitours. The summer's gone and the autumn is here. We all have a need of  nourishment for both body and soul. Not to worry – Knutitours will take care of you. I'm very proud to present two new co-workers for Knutitours!
Millions of people throughout the world are suffering from stress and stress related diseases. Fortunately there are ways to prevent burn-out with Knuditation and Yoga – we will shorten it to KAY.
Es ist an der Zeit für den Newsletter 4/2008 von Knutitours. Der Sommer ist vorbei, und der Herbst ist gekommen. Wir alle brauchen Nahrung für Körper und Seele. Keine Bange - Knutitours wird sich um euch kümmern. Ich bin sehr stolz darauf, zwei neue Mitarbeiter von Knutitours zu präsentieren!
Millionen von Leuten auf der ganzen Welt leiden unter Stress und an durch Stress bedingten Krankheiten.  Zum Glück gibt es Wege, um mit Knuditation und Joga dem Burnout vorzubeugen - wir nennen das jetzt kurz KAY.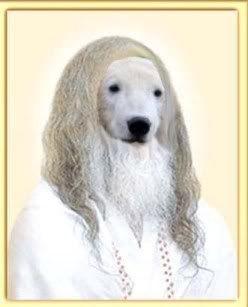 Knutitours has emloyed the honourable Mahareshi Swami Bramhananda Saraswati Jagadguru Shankaracharia Knuti. Since the name is somewhat long and difficult to remember we call him simply Knutareshi from now on!
Knutitours hat den ehrenwerten Mahareshi Swami Bramhananda Saraswati Jagadguru Shankaracharia Knuti engagiert. Da der Name doch sehr lang ist und schwierig zu merken, werden wir ihn von jetzt an einfach Knutareshi nennen.
By following these 5 steps you will achieve a state of happines and joy and diminish the risk of burn-out:
Wenn Sie diese fünf Schritte befolgen, werden Sie einen Zustand von Glück und Freude erlangen und das Risiko des Burnouts mindern:
Reducing stress and bringing balance to life
Never ignore your need for napping and relaxation! Lack of sleep makes anybody feel miserable!
Reduzieren Sie Stress und werden Sie ausgeglichen
Ignorieren Sie nie den Bedarf an Nickerchen und Entspannung! Wenn es Ihnen an Schlaf mangelt, fühlen Sie sich erbärmlich!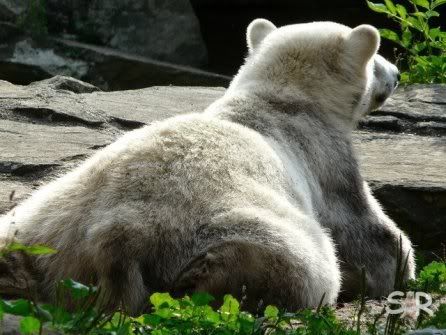 Photo: Simone R
Improving health - especially with stress-related problems
Never ignore your need of food! We have our bellies to be filled with yammy things! Keep that in mind and you'll be a more harmonious person. There's no such thing as overweight – there are only too small clothes!
Tun Sie etwas für Ihre Gesundheit - besonders bei stressinduzierten Problemen
Ignorieren Sie nie Ihr Hungergefühl! Wir müssen unsere Bäuche mit leckeren Sachen füllen! Wenn Sie daran denken, werden Sie Harmonie erlangen. Übergewicht gibt es nicht - nur zu enge Kleidung!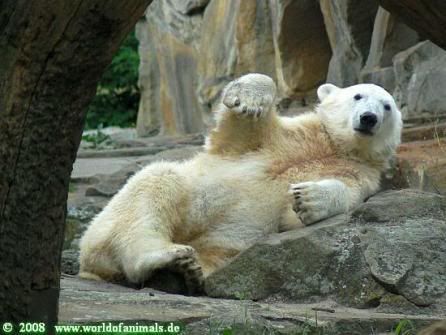 Photo: Hartmuth
Personal effectiveness - clarity of thought, creativity, getting more done
Never ignore your need to peek on Knuti related blogs! Try to convince your boss of the necessity of peeking. Speak Latin because it makes you appear as a very well educated person: Peekare necesse est! If your boss doesn't understand you,  tell him with well chosen words what you think of him. A little hint: Check your bank account before you do that…..
Seien Sie effektiv - denken Sie klare Gedanken, seien Sie kreativ, schaffen Sie mehr
Ignorieren Sie nie das Bedürfnis, einen Blick in die verschiedenen Knuti-Blogs zu werfen! Versuchen Sie, Ihren Boss von der Notwendigkeit zu spinksen zu überzeugen. Sprechen Sie Latein, dann hält man Sie für eine gebildete Person: Spinksere necesse est! Wenn Ihr Boss Sie nicht versteht, dann sagen Sie ihm mit gut gewählten Worten, was Sie von ihm halten. Ein kleiner Hinweis: Checken Sie Ihr Bankkonto, bevor sie Ihren Mund aufmachen …
Improving relationships
Never ignore your need to meet Knuti and other Knutians at the Berlin zoo!
Verbessern Sie Ihre Beziehungen
Ignorieren Sie nie Ihr Bedürfnis, Knuti und andere Knutianer im Berliner Zoo zu treffen
Self Knowledge - fulfilling life's deepest need
Never ignore your need to do things you want to do! Play with a jutebag or old pants, put on a sand makeup, take a nap when you need it and NEVER forget to increase your inner beauty by eating properly!
Selbsterkenntnis - wie man sich die größten Bedürfnisse erfüllt
Ignorieren Sie nie Ihr Bedürfnis, Dinge zu tun, an denen Sie Spaß haben! Spielen Sie mit einem Jutesack oder mit alten Hosen, legen Sie ein Sand-Makeup auf, halten Sie ein Nickerchen, wenn Sie sich danach fühlen, und vergessen Sie NIEMALS, Ihre innere Schönheit zu intensivieren, indem Sie ordentlich essen!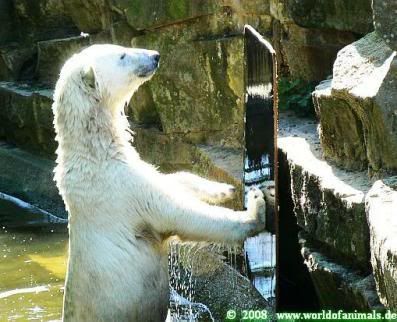 Photo: Hartmuth
Knutareshi's motto: The most important thing in life is gardening – and that's not so important either!
Knutareshis Motto: Das Wichtigste im Leben ist das Gärtnern - und auch das ist nicht so wicht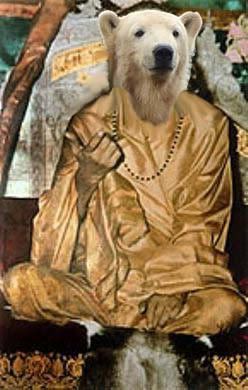 Many celebrities are following Knutareshi's theses - the most famous of them is Knuti the Polar Bear in the Berlin Zoo. He has also been most successful in achieving the state of inner harmony and happiness! Not only is he very confident in himself - he has also managed to bring joy and happiness to people all over the world!
Viele Berühmtheiten folgen den Thesen Knutareshis - der berühmteste von allen ist Knuti der Eisbär im Berliner Zoo. Er ist auch sehr erfolgreich darin gewesen, den Zustand von innerer Harmonie und Glücklichsein zu erlangen! Nicht nur ist er sehr selbstbewusst - es ist ihm außerdem gelungen, den Leuten überall auf der Welt Freude und Glück zu bringen!

For those of you who might want to get physical - let me introduce you to Herr Knurzenegger, Mr Knutiversum 2008! He has been employed as a personal trainer to Knutians! Now, ladies, ladies, mind your manners, stay in the line, please!!!
Herr Knurzenegger is a very ambitious guy and he's going in to politics. His first goal is to be the Bürgermeister in Berlin! After that he wants to be the new Bundeskanzler after Frau Merkel. Every vote counts so he's been taking lessons from Knuti of how to charm the voters - especially the female voters! He certainly knows where to find the expert!
He's also looking for a suitable bride - preferably with the name Kennedy. Do you know any available girls?
Für jene von Ihnen, die vielleicht das Körperbetonte lieben - lassen Sie mich Ihnen Herrn Knurzenegger vorstellen, Mr. Knutiversum 2008! Er wurde als persönlicher Trainer für die Knutianer engagiert! Nun, meine Damen, meine Damen, wo sind Ihre Manieren? Tanzen Sie nicht aus der Reihe, bitte!
Herr Knurzenegger ist sehr ehrgeizig und möchte in die Politik gehen. Sein erstes Ziel: das Bürgermeisteramt von Berlin! Anschließend möchte er der neue Bundeskanzler nach Frau Merkel werden. Jede Stimme zählt, deshalb hat er bei Knuti Unterricht genommen, wie man die Wähler umwirbt - insbesondere die weiblichen Wähler! Und er ist mit Sicherheit an einen echten Experten geraten!
Außerdem sucht er nach einer passenden Braut - bevorzugt mit dem Namen Kennedy. Kennen Sie ein paar Mädchen, die in Frage kämen?