AN ALLEN, DIE SCHON ARBEITEN MUSS - FOR ALL OF YOU WHO ARE WORKING AGAIN
Story by Teddybärenmutti, Photos by Marion K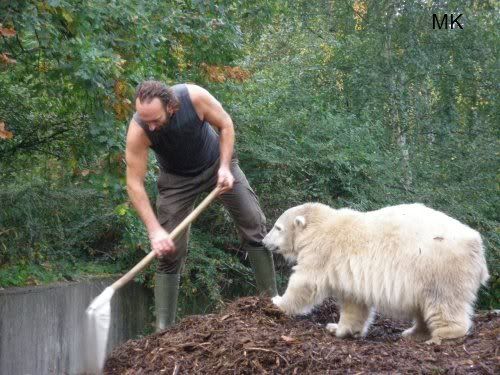 - PAPII, PAPII! Hast Du Zeit?

- Jaa-a. Ich habe immer Zeit fuer Dich Knutchen.

- Papi, arbeitest Du?

- Jaa, natuerlich. Warum fragst Du?

- Ich habe alle meinen Bloggs gelesen. Dort alle- no jaa fast alle - meine liebe Freunden klagen, dass sie muessen arbeiten. Was ist Arbeit? Ist es etwas unangenehmes, wie gelbe Presse? Oder schreiende kleine Menschen. Ich mag sehr gerne kleine Menschen aber warum sollen sie so viel Lärm machen. Wie arbeitest Du Papi?
..............................
- Daddyyy! Have you got a minute?
- Yes. I have always time for you!
. Daddy, are you working?
- Yes, of course. Why do you ask?
- I have read all the posts in my blog - well, almost all...My dear friends are complaining they have to work. What is work? Is it something unpleasant like the yellow press? Or screaming small children? I like these little people but why do they have to make so much noise? How do you work, Daddy?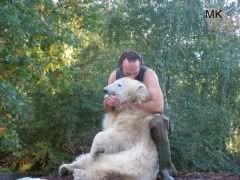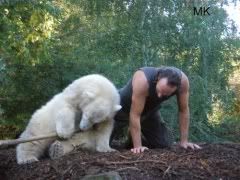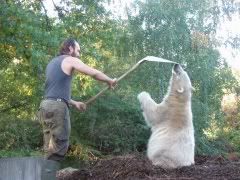 - No. jaa. ich komme sehr frueh ins Zoo. Danne koche ich Dir Dein Elovena-Brei. Ich mache an anderen Bären Fruehstueck. Ich serviere Fruehstueck. Dann muss ich eure Bärens Lunch planen. Alles fertig machen. Essen bestellen. Gehegen putzen und organisieren. Und sehr viel Papierarbeit machen.
- Well, I come to the zoo very early. Then I make your Elovena porridge and breakfast even for the other bears. After serving you your breakfast it's time to start preparing your lunch. I have to clean your enclosures and organize a lot of things. Besides there's much paper work to do.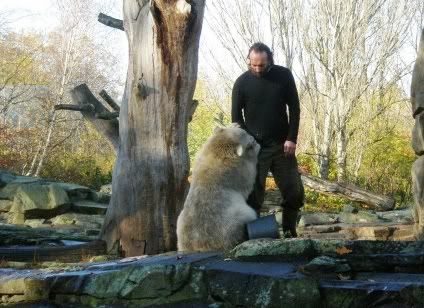 - Papi, ich will auch arbeiten.

- Du arbeitest schon sehr fleissig.

- Ich habe nicht gewusst, dass ich arbeitete.

- Wenn du spielst mit Deinen Spielzeugen. Oder wählst Bällen. Oder schwimmst, oder tauchst. Oder wartet Dein Essen.

- Ist es Arbeit? Es ist lustig. Hihih. Mit deine alte Hosen zu spielen!!!!!!

- Es ist Deine Arbeit. Deine Arbeit ist Spielen. Schwimmen, Tauchen, Schlafen. Essen zu warten. Es bedeutet, dass Du machst sehr wichtige Arbeit.

- Warum ist es so wichtig.

- Darum, dass Du so viele Freude. Lust, Friede, Zusammensein und allerlei Positives produziert.

- Bin ich wichtig?

- Du bist sehr wichtig. Wichtigste im Leben ist Liebe, Freude, Lust und Knut.
...............................
- Daddy, I want to work, too!
- You're already working very hard.
- I didn't know I was working...
- You're working when you play with your toys, when you swim or when you're waiting for your food!
- Is that work? It's so funny! Playing with your old pants is work!!
- Your line of work is playing, swimming, sleeping, waiting for the food. Your work is very important!
- Am I important?
- You are very important. The most important things in life are love, piece, fun and Knut!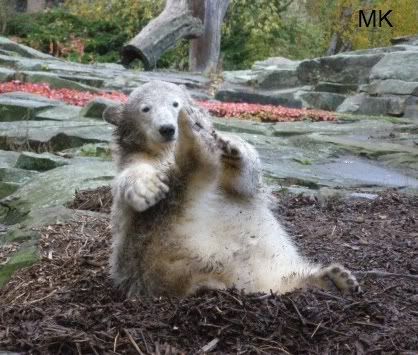 - Papi, ich will sehr gern arbeiten. Du auch? Papi. sollen wir eine Firma gruenden? Knuti-Lust? Dort kann alle meine liebe Knutianer arbeiten. Ich bin sehr gern Chef. Du kannst meine rechte Tatze sein.
- Daddy, I love to work? You too?? Daddy, why don't we establish an enterprise? We could call it Knuti-Fun and all my dear Knutians could work there. I'd love to be the Chief. You could be my right paw!