Story: Teddybärenmutti
Images and translation into English: Mervi, Translation into Spanish: Elke Frank
Originalphotos: Manuela R, Viktor, Jessy Berlin
A BUSY DAY
 
- ZZZZZZZZZZZZZZZZZZZZZZZZZZ 
 
-zzzzzzzzzzzzzzzzzzzzzzzzzzzzzzzzzzzzzz 
 
- Mein Knutchen! I'm so glad to see you so happy.
 
- Danke Papi, I'm very happy to have Flocke here with me. 
 
- It seems to me you're very much in love!
- Yes, Daddy, I love my dear Flocke. She's so beautiful and lovely and she's got lots of energy!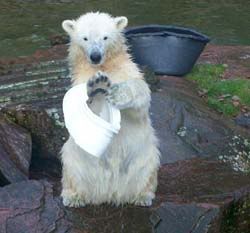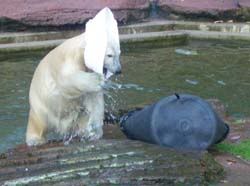 -- Yes, I've noticed that, too! You will be very busy .... I mean dealing with Flocke's energy. Well, that's the way it is with the ladies, my son.
 
- What do you mean, Daddy?
 
- Nothing special...you'll see...hihiii....

- /Knuuuut, Knuuti, Knuut! What's going on?
 
- ZZZZZZZzzzzzZZZZ. 
 
- Knuut. Knuutu, Knuuuti! You're talking in your sleep.
 
- Nö, jaa nöö. Bussy, Bussy, Bussy meine Flockchen! 
 
- But you did speak in your dreams.... 
- Dear Flocke, Every morning before I wake up I speak with my dear Daddy.
- Do you miss him very much, dear Knuti?
- Yes, I miss my Daddy very much and sometimes I'm very, very sad. On the other side I'm also very glad and happy. Without Daddy there would be no Knut and without Knuti there wouldn't have been any Daddy! In the mornings when I havent woken up properly my Daddy comes to me. In the evening I light my magic candle and Daddy comes to me again! We talk, laugh and sing together. We also read my blogs together.
I also have my dear Tante Sylvia and my dear Uncles Ronnie and Marcus. And of course, I have a lot of Fan Aunties and Uncles. I mustn't forget my mama Tosca, papa Lars, Aunt Katjuscha and Aunt Nancy either - my loving neighbours. AND YOU FLOCKE!
 
- I think I understand.
- Dear Flocke, now we must eat properly. Let's have a megabrunch! I can make some Elovena oat meal...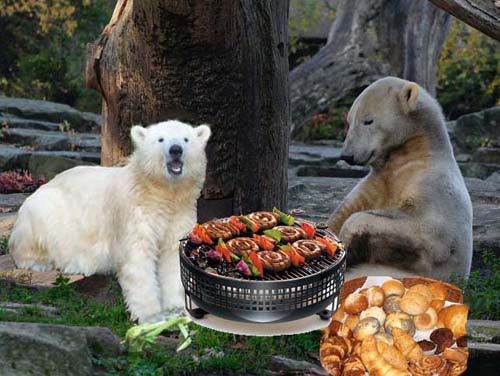 - I can lay the table. Where are the knives and forks? In the dishwasher? In the cupboard? Knut! Why is the dishwasher filled with your toys?
- Hmm, pnph...I thought I would have my toys clean for you. I just forgot all about them. 
 
- You are so funny, mein Knuti!
 
- You'll find the knives, forks and spoons in the cupboard...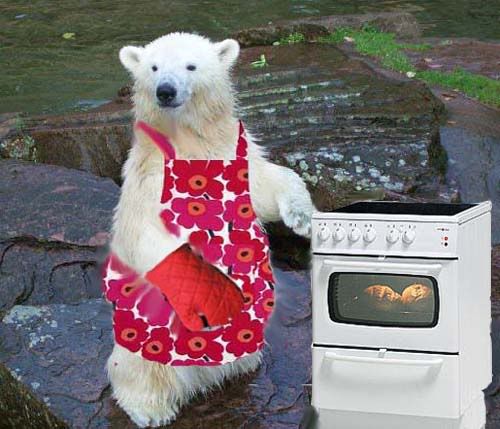 - Elovena oat meal is very yammy. Ooooooh, warm croissants!!! Fresh  orange juice!
 

Bling,blong, bling, blong... connecting bears...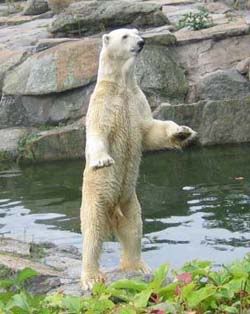 - It's Knuti.
 
- Halloo mein Söhnchen! 
 
- Papa Lars? How are you doing?
- Just fine, thank you. Your dear mama Tosca and I - and of course, your aunties Katjuscha and Nancy - want to invite you and Fräulein Flocke to have lunch with us. We are very curious to meet Fräulein Flocke... 

- Papa, we love to come but Flocke's going shopping so we might be a little late...
- OK, You and Flocke are so welcome! I will make some big steaks and Mama will make a wonderful sallad. Aunt Nancy will buy some cookies and Aunt Katjuscha wants to treat you with strawberry icecream!
  
- Knutschen Papa. See you soon! 

-------------------------------------------- 
- Would you like to have more Elovena oat meal? Orange juice?
 
 
Bling, Blong, Bling, Blong - connecting bears..... 
- This is Knut talking. Oh, Maika, my dear neighbour! How are you? You want to invite us to BBQ tonight? Just a minute - I have to ask Flocke....
 
- Flocke dear, our neighbours are having a barbeque this evening and want us to join them. Shall we go?
 
- But of course! 
 
- Danke, Maika,  We'll be there. Are we having any salmon? See you tonight. Who else are coming?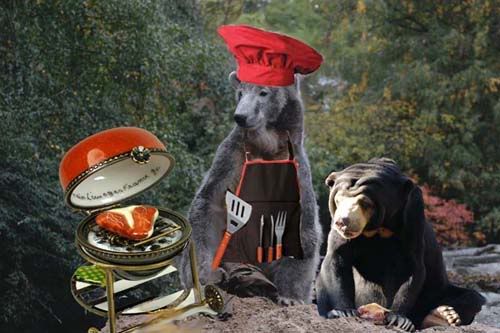 - Dear Knuti, we're going to have a busy day! Now we need a quick bath in the pool and then we must go shopping!

- What shall we buy to to Ernst and little Adolpho? A teddy's pram, a teddybear och a teddy elephant??
 
- Knuti! You must change the tone in your cell phone. It's quite boring. Maybe something more romantic. Maybe something like 'Thousands of little angels are singing....?
To be continued....
 Flocke visita a Knuti tercer part
Cuento : Teddybärenmutti
Imagenes: Mervi
Fotos originales: Manuela R., Viktor, Jessy Berlin

Un dia urgente
Mi Knutito! Me estoy asi feliz, porqué tu estás asi feliz!

Gracias Papi, me estoy asi feliz, porque mi querida Flocke se está aqui!

Los están asi corozonado.

Si Papi, quiero mi Flocke querida, la está asi agradable, guapa y muy energico.

Si, si yo lo notaba tambien. Tú obras muy urgente- pienso con la energia de Flocke.Lo está asi con los mujes, mi hijito.

Que piensas, papi?

No lo está importante. Hihi.
Knuuuut, Knuuut, Knuuut! Que pasa contingo?

ZZZZZZZzzzzzZZZZ.

Knuuuut, Knuuuut, Knuuuuti! Estás hablando, durante estás durmiendo.

No, si, no, besito, besito, besito mi Flockita!

Pero has hablado durante la hora de dormir.

Queirda Flocke. Hablo cada mañana antes me despierto con mi papi querido.

Has mucho anhelo en tu papi, mi Knutito querido?

Si, tengo mucho anhelo en mi papi querido, algunas veces me estoy muy triste. Pero en otra tiempo me estoy mucho feliz y alegro. No no era ningun Papi sin Knut y no lo era Knut sin Papi. Por la mañana me no estoy despierto, Papi va a mi. Por la nóche que me estoy enciendo la candela de encando y Papi viene de nuevo a mi. Hablamos, cantamos, reimos juntos. Leemos mis blogs juntos. Después tengo tambien mi tia querida Sylvia, los tios queridos Ronny y Marcus. Tengo tambien muchos tias y tios de fan. Y naturalmente mi madre Tosca, papa Lars, tia Katjuscha y tia Nancy. Mis queridos vecinos. Y a ti, Flocke.
Knut! Porque está tu lavavajillas asi lleno con jugetes?

Ah!Ah! Pense Puedo decorar la mesa. Dónde hallo la vajilla? En la lavavajillas? En el eparador?, que mis jugetes deben que limpio parat i. Tuve equivocarlos ahi.

Está asi divertido, mi Knuti.

Platos, vasos, cuchillos etc. hallas al aparador.

Pasta de de Elovena con mermalada está muy exquisito. Ah, croissants calientes.

Jugo de manzana, fresco.

Bling, blong, bling, blong … coneccion osos

Knut, me estoy hablando

Hola, mi hijito.

Papa Lars? Cómo estás?
Está bien. Tú máma querida Tosca y yo naturalmente tambien los tias Katjuscha y Nancy. Quieres irte con Señora Flocke a nosotros para almozar? Estámos curioso. Queremos a conocer a Señora Flocke.

Papa, si nos vamoa con mucho gusto, pero por la mañana Flocke quiere ir de compras.

Seguro tú y Flocke estáis bienvenidos. Quiero asar bisteques. Máma está preparando ensalada, Nancy quiere comprar pasteles y Katjuscha quiere helado de fresa en absoluto. Beso Pápa, nos vemos pronto.
Bling, Blong, Bling, Blong……… conección osos
Querido Knut, tenemos un dia con mucho prisa. Ahora muy rapido a la piscina, después agitarse bien y después ir de compras.
Que, vamos a comprar para Ernesto y el pequeño Adolpho? Un cochechito de niño, un osito de trapo, o un elefante de trapo?
Está en continuacción…………..