Story: Teddybärenmutti
Images and translation into English: Mervi
Originalphotos: Viktor, Jessy Berlin, SylviaMicky, Manuela R
FLOCKE'S KNOCKING ON THE DOOR? 
- You look very elegant. I'm very proud of you my little Knutlein.
 
- Thank you, Daddy, I feel very elegant and I'm very pleased with myself!
 
- Knopp, Knopp, Knopp!!!!! 
- Flockes' here, Flocke's here, my Flocke has arrived!  Tralalalaa!!!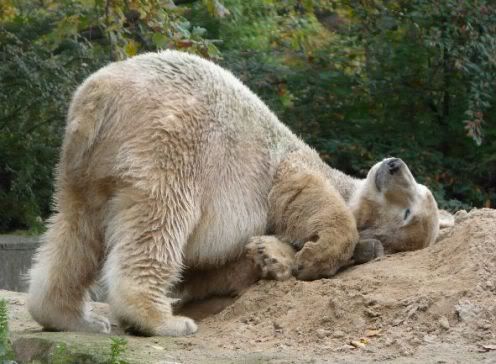 - BERNIE?
 
- Yes, it's me - Bernie. Have you any chocolates and honey? My ladies are arguing again. You know how much I love peace and quiet so I can think my bearphilosophic thoughts.
- My fridge is filled with everything. Of course you can get chocolates and honey.
- Everything's so clean and tidy here! And the table is laid so beautifully. Are you waiting a visitor? 
 
- No, no, no...
 
- A table for two??
- Oh, well, no, I mean yes....
- I'm a happy brown bear Bernie. I'm singing 'Mors lilla Olle i skogen gick (a Swedish song about a little boy who meets a bear in the woods). Now I have chocolates, honey and some hot gossip for my ladies. Now I can look forward to a peacefull evening. Oh, dear Knut, you're a good neighbour.

-------------------------------------------------------- 
 
- Kuckuu, Kuckuu, Knuuti, mein Knuutu, Knutchen, Kuckuu!! Why is your door open?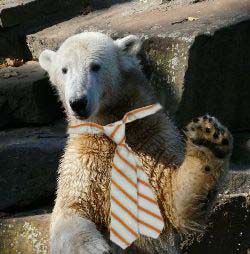 - FLOCKE, FLÖCKCHEN! May I introduce my neighbour Bernie.
 
- Knuten Tag Herr Bernie. Best greetings from Nuremberg. 
-  Knuten Tag, Fräulein - Flocke isn't it?. Welcome to Berlin! Well, I must be going - thank you Knuti, you're always so helpful.
 
- Bussy, Bussy, Flocke! 
 
- Bussy. Bussy, Knuti! 
- Welcome to my home. You look so wonderfully roundish. So beautiful. And your fur is so fluffy. May I smell you a little?
  

- Mein Lieber Knuti, Knutu. 
- I see you have earrings and a nice ribbon on your hair.
  
- Just for you, mein Knuti. 
- My Daddy also had an earring but you have two - for both ears...I see you've got a heavy looking bag..
 
- Oh yes, I've got some gifts for you. 
- Gifts for me, but Flocke, YOU are my gift!
- Here' a blue bucket. I think you like blue buckets, too..
 
- Oh yes, I do.
- And here's some Knäckebrot from Scandinavia. 
 
- That's delicious!!
 
- And here's a candle for you! 
- Dear Flocke, I love candles. This will be my magic candle. Danke, Danke, Danke!
 


 
------------------------------------------------------- 
 
- Maika, MAIKAA. MAIKAA! What are you doing up in that tree?

 
- Not so loud, Bhumibol! 
 
- Papa! Our neighbour, Uncle Knut, has a visitor!
- So what? He always has a lot of visitors.
 
- But Papa, Uncle Knut's visitor is a girl!!
- WHAT? Why didn't you say so in the first place? I must climb the tree fast!! A GIRL!!!
 


  La bella notte