Story: Teddybärenmutti
Images and translation into English: Mervi
Original Knuti: SylviaMicky, Gisela, Nene,Viktor
Bling blong. bling, blong, bling.... 
 
- Zzzz, ah my cell phone, zzzz...... where the hell  (KNUT!!!) - I mean where is it? In my pocket? No, I have no pockets. Oh, it must be there by the tree....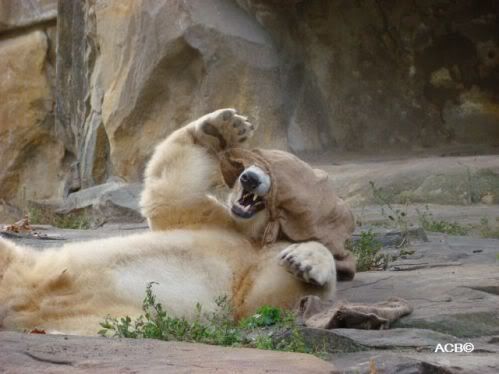 - Hello, zzzzzz, it's Knut zzzzzz....
- Knut? Is that you? Are you still sleeping?
- No. Yes, No, no. Is that you, Flocke?
 
- Yes, dear Knut, it's your Flocke. How are you?
 
- I'm just fine. And you?
- I've got a surprise for you!
 
- Surprise???
 
- Yes, yes, I'm coming to visit you! 
 
- WHAT?? Are you coming to me?
 
- Oh yes, I'll be there in a couple of hours!
 
- So soon!
- My lady keeper is coming to Berlin to do some shopping and I'm coming with her. She told me you are propably very sad because your Daddy is now working at the Heaven Zoo. Maybe my visit will cheer you up...
- Dear Flocke, you're so kind. Of course I miss my Daddy but he's not far away. He's always very near me. But it's wonderul you're coming to me. I love you my dear Flöckchen!
 
- I love you, too - sooooooooo much!! See you soon!
- Ask your lady keeper to drive carefully. There's so much traffic on the Autobahn.
- I promise we'll be very careful. Bussy, Bussy!
- Bussy, Bussy. See you very soon!
 


 
--------------------------------------------------------------------------- 
- Flocke's coming, Flocke's coming, Shoobidooo, Tralalaa. Flocke's coming, Flocke's coming!!!!!
 
- Knut, you look terrible! 
- Who said that? Oh, mein Knutt, I'm so dirty! I must take a bath and get clean. Oh dear, Flocke must be very hungry, too and my fridge is empty. Only a couple of oxtails...KnuDeWe maybe? No, it takes too much time. Ach ja, I have to call Aunties Eva and Patricia....

- Now, where's Auntie Eva's number? Here it is....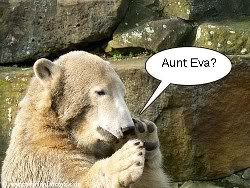 - Wolfgang's Mama speaking.
- Hello Auntie Eva. It's me - Knut.
 - Howdy, Knut! How are you doing?
- Very well, but I`m very busy. Will you please help me? 
 
- But of course. It´s a pleasure for me, but how can I help you?
 
- Flocke is coming to visit me and I haven´t any food to serve her. 
 
- Dear Knut! There is no problem.. I start cooking. I shall telephone to Patricia. 
 
- Thank´s so much dear auntie Eva! Bye, bye! 
 
- We must have something to drink, too! Now I know - Sekt á la Rose! 
- Hello Viktor - is that you? It's me - Knut. This is an emergency - I need your help!
  
- Of course I'll help you. Just tell me what you want me to do!
- Flocke, my dear Flocke is coming to visit me. We'd like to drink something good. Could you please, bring me a bottle of Rosensekt? 
- Sure! Are you going to drink sekt out of Flocke's pumps, hahaa???
- Pumps? What are pumps???
 
------------------------------------------------------------------------ 
- Knutchen, your enclosure and your cave are a mess!! You must do something about it!
 
-Hmpf. Manno. Perkele! Oh the hell (KNUT! Mind your language!!). Sorry about the language - I know I shouldn't swear.... Where's my apron? Where's the vacuum cleaner? Of course the bag is full....and Flocke will be here any minute now...Flocke kommt, tralalaa, Flocke kommt....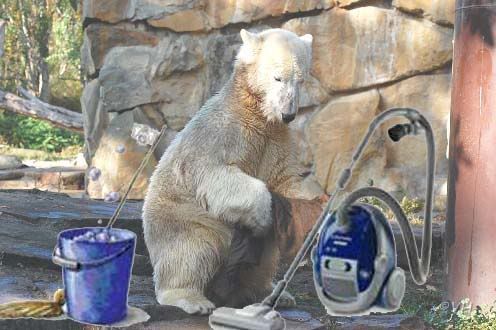 - Knuti, you really must mind your language!! You mustn't swear!
- OK. Now I have to make my enclosure look nice. I have to gather all my toys. They are so dirty, I guess I have to put them in the washing machine...maybe the low energy program will be enough....Everything's starting to look quite nice....
 
------------------------------------------------------------------------------  
- And now I have to take a bath and then put on some Fur lotion so I'll smell good. Knut 4711?? I have to wear a tie, too. Oh, blah...hemmetti (KNUTI!!). This stupid tie! Maaaaarcuuuuuuus! Uuuuuncle Maaaarcuuuuus! Please, help me with this tie!
- I don't know the first thing about ties, you must ask Uncle Ronny to help you.
- Uuuuncle Roooonnnyyyyy! Help me, please, help me with the tie!
 
- Okay. I'll fix your tie. But Knut, you smell fish! You really must clean your teeth with Knupsodent!! 
- I clean my teeth. Flocke's coming to me, Flocke's coming to me....Ooooops! I've got Knupsodent stain on my tie!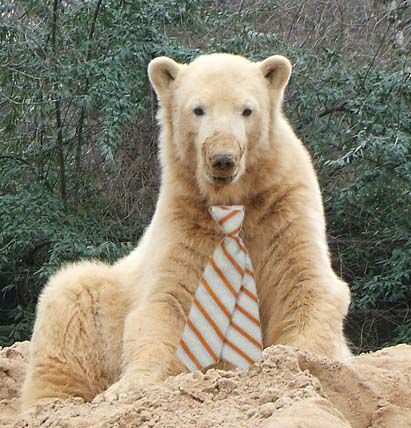 - Uuuuuuncle Roooonnyyyyy! I have a Knupsodent stain on my tie. What shall I do now?
- Well, I only have my official zoo tie here. Would you like to lend it? 

- Oh, yes! 
 
- Flocke will be here soon! Everything's ready!