Story: Teddybärenmutti
Images and translation into English: Mervi
Originalphotos: Marion K, Viktor, Manuela R, Jessy
SHOPPING 


- Knut, why are going in this direction? The Löwentor is over there...

- We're going to the garage.
 
- Garage? KnuDeWe and the KnuDamm are quite close. We can easily walk there.
 
- I want to show you something...you'll see... 
 
- WHAT? A fancy car and there's KNUTI - 1 on the plate!!! 

- Öhömph...that's my car, baby! What do you think, Flocke dear?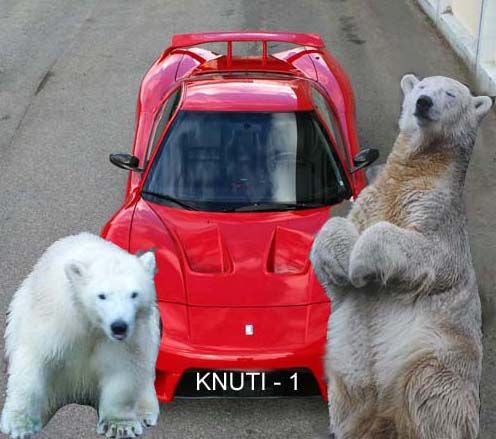 - WOW, WOW, WOW!!!!!!. 
- Drive safe, my son! Remember, your great love is in the car, too.
  
- Dear Daddy, I'll be very, very careful.
- Well then, dear Flocke, the door is open. Shall we have some music? What is your favourite music, Flocke dearest? 

- Teddybears Picnick, of course!

 
-------------------------------------------------------------- 
- Well, here we are - in the KnuDeWe. Where do you want to go first, dear Flocke?
 
- Let's see. I have a long list of everything we have to buy. First we'll go to the ladies' department. I want to buy a new hat for the Barbeque tonight.
 
- A hat? But you have such a beautiful head and your fluffy hair is so charming. Why do you want to cover your hair?
- A hat makes me look very elegant! You should buy a hat, too!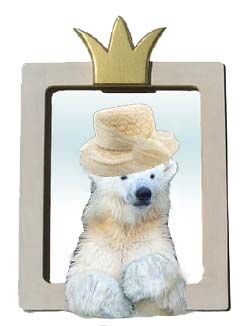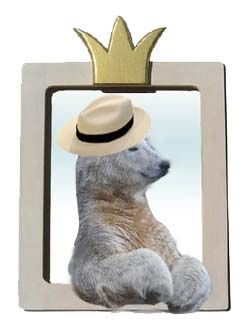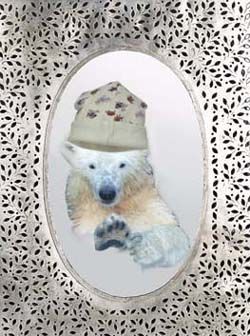 - Sunglasses? Why do you want to buy sunglasses? Then I can't see your bright eyes.
- Wearing sunglasses I can be incognito! You need sunglasses, too, my dear Knuti!
 
- Me? I don't need any sunglasses!
 
- Nonsense. Of course you need sunglasses when you're driving your car! Besides - maybe you want to play incognito sometimes, hihii... 
 
- And now we'll continue to the perfume department.
 
- Why? You smell so good anyway, my dear. 

-  I want to buy a bottle of Knut 5 for me and Fur lotion 4711 for you. Bärliner luft, luft, luft....
 
- What did I tell you, my son. Shopping with women is always like this...
 
- Yes, Daddy, you're so right!!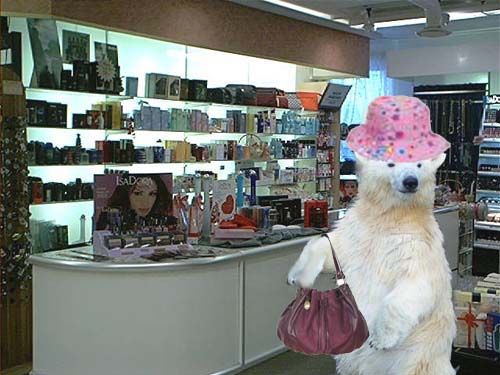 - And now to the household department! Soon it will be my first birthday and I need some plates, spoons, glases, napkins, candles, vases for the flowers....Do you think you'll manage to carry all that stuff?
 
- Yes, hmmm, yes. I love to carry your purchases....
 
- We must also visit the children's department.
 
- Why? We have no kids...
 
- Knutchen, my sweet bear, not yet...What I meant is we must buy a birthday gift to little Ernst. How about a doll's pram? He could be driving around in it in his enclosure. And  little Adolpho...maybe he would like a teddy elephant? - Where's the sports department?

- Sports department? Flocke dear, you're so funny. Are you going to to train Nordic walking?
 
- No, no, I already can Nordic padding, hihii....I had a little chat with Aunt Sylvia. I want to bring some gifts from Berlin to my dear keepers because they're so loving and caring. Your Auntie Sylvia said all the zoo keepers love green rubber boots so I'm buying 4 pairs of them!

- Are we going to shop more? 

- You bet you are, my son! The shopping isn't over yet...

- I want to buy flowers to your dear mami Tosca and your aunties. What about papa Lars? Does he prefer whisky or brandy? I'll have both. And now to the delicatessen shop! Where are you? KNUUUUUT!!!
 
- I'm here - behind the bags and parcels and rubber boots...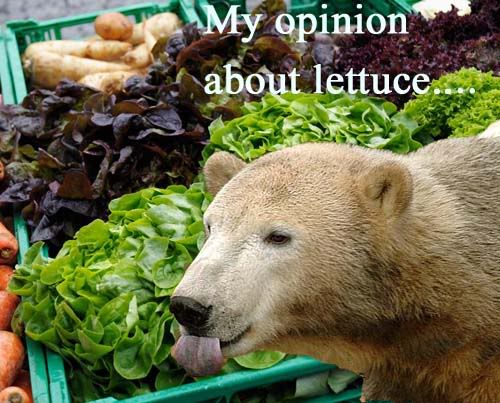 -  Dear Knut, why do you look so tired?

- I'm hungry! Aren't you hungry, my dear? 

- Well, as a matter of fact I am!

- I have a favourite hangout in Berlin - it's called Knuipe. We'll need lots of croissants and cookies. Let's go there! What kind of cake do you like best? Schwarzwaldcake with whipped cream? I want to eat at least 3 cakes. How many do you need my darling? Ten?

- Schwarzwaldcake is so delicious. Talking about cakes - Knuti, you're having your birthday soon, too! I'm sure your birthday party will the highlight of the season in Bärlin! I was wondering - how do you recognize all your fans?
- Dear Flocke - you're so intelligent! I never thought of that. There will be so many fans from all over the world...
 
- Yes, they all love you so much. You really have to say hello to each and everyone! They are travelling from America, Scandinavien and all parts of Europe to celebrate you! 
 
- Hmpf, hmpf. 
 
- I have a suggestion!

- You are always so practical and clever, me dear Flocke! What do you suggest?
- Your dear aunties Mervi, Erika, Doro...They could design nameplates! Everybody could print them out. Then they just write their names on the plates and attach them in their coats with a safety pin! Thus they would all learn to know each other as well.
 
- Dear Flocke, you are a genius! Kiss, kiss, hug, hug....