By Patricia Roberts
For this evening, I have prepared leg of lamb, green beans and spring
onions stewed in a little butter and potato cubes baked in olive oil in the
oven. I have added quite a lot of garlic and a little bit of rosemary to
the lamb.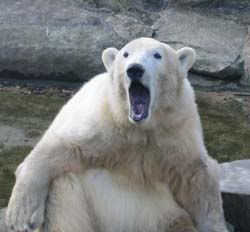 YOU DID WHAT?????




BOOOINK ! Uh, what is happening here? HEEEELLEEP, the white fluffy waiter
fainted.
P:- Well little one, do you feel well?
W:- Are you really going to put Rosemary in the pot?
P:- Yes, why not, it is delicious. Nobody can resist the taste of fresh cut rosemary.

BOOOIINK (again).
W:- I don't want to eat humans.
P:- Of course not, nobody wants you to eat humans and we are no cannibals either. I just said that I was going to add a little of rosemary in the pot.
W:- But, I do not want to eat rosemary !
P:- But honey, rosemary will give a special flavor to the meat. Everybody
adores that taste. It is a perfect match.
W:- Ah, well, ah, is it OK if I become an instant vegetarian?
P:- Out of question, sweetie, you are still too young and your body needs meat, fish, veggies, fruit and so forth to grow and to become a strong man.
W:- But, Rosemary is a nice lady.

HUH !

P:- Oh, I got it. Well, Rosemary is indeed a lady, but rosemary is also
the name of a green herb that smells lovely on a warm Summer evening.

Enjoy the dinner!