05.09.2008
It's party time at the Knuipe…I mean Kneipe!!
When we arrived to Rankestrasse 9 there was already a merry crowd of Knutians sitting outdoors waiting for the party to begin.  Since we were so many we needed two tables – unfortunately we couldn't put the tables together – no room for that in the Kneipe. There were other groups coming and it looked like we should be sitting 'far away' from each other. Not to worry – Dumba – the great organizer! -  asked  a group of Germans if they could change tables with us and very kindly they agreed. Now our tables were next to each other and the party could begin!
Manu aus Berlin had prepared a little speech which was loudly applaused! She spoke German, of course, so I didn't quite catch everything but luckily she posted it on Knuti's blog so I pinched it:
"Liebe Knutianer,
keine Angst, dies soll keine stundenlange Rede werden.
Diese Gelegenheit möchte ich aber nutzen, um die auswärtigen Knutianer noch einmal herzlich in BÄrlin Willkommen zu heißen. Ich muss gestehen, dass ich mir nie hätte träumen lassen, dass durch Knuti solch große Gemeinschaft entsteht. Das man sich mit erst wildfremden Leuten trifft, dann immer wieder gemeinsame Zoorundgänge macht, im Blog immer oder meistens auf offene Ohren stößt – auch bzw. insbesondere wenn man mal Probleme hat - und dadurch richtige Freundschaften entstehen. Knuti verbindet eben. Und wo wir gerade bei ihm sind, Knuti hat sich übrigens heute an seinem 21monatigen Geburtstag über so viel Besuch aus dem In- und Ausland sehr gefreut. Das hat er mir am Gehege noch geflüstert. Er staunte Bauklötzer, dass alle nur wegen ihm gekommen sind. Auch wenn ein gewisser Herr Dr. Blaszkewitz das nicht wahrhaben will. Knuti hat ja auch extra seine Anlage putzen lassen. Erziehung ist nun einmal alles und er hat halt seine Leute im Griff und weiss was sich gehört. Jetzt ist er allerdings sehr gespannt und fragt sich, was soll das dann für eine große Party an seinem zweiten Geburtstag werden? Vorsorglich meldet er schon mal seine Wünsche an: Croissants, Croissants und nochmals Croissants und dann noch Fisch und neues Spielzeug!
Bevor ich nun zum Ende komme, soll ich euch allen noch herzliche Grüße von unserem Switzermädle Ursi ausrichten, die es sehr bedauert, dass sie heute leider nicht bei uns sein kann!
So, da bekanntlich in der Kürze die Würze liegt, mache ich jetzt Schluss und wünsche allen einen schönen knutigen Abend!"
For those who don't understand any German I can tell that the speech was an ode to Knuti and the Knutian friendship!
Wine, wasser and Knutsteiners were ordered and it was time to study the menu. I guess many of us were a teeny weeny disappointed when instead of a fluffy waiter a waitress came to take our orders….Well, the food was delicious and the beer was cold so everybody was happy!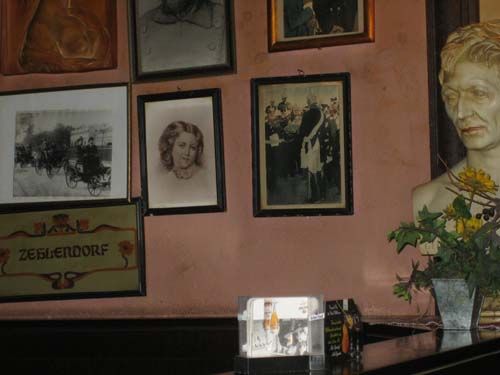 Viktor had arranged an online service to our friends who couldn't be there this special night. He kept sending photos and posts during the evening and I think it was very much appreciated!
Since many of us are smokers and smoking is not allowed in the Kneipe we had to go out once and a while to get some fresh air (!) and smoke a fag.  We decided to arrange a little demonstration and there were many laughs even from the people sitting outside when they saw Viktor taking pictures of the sinners! Monika read a very special 'smoker's poem' which I hope she'll send to me so you can read it, too. It was hilarious!!
There was a pianist, too, playing background music for us. Hearing  the tunes of 'Wonderful Copenhagen' Inge and I couldn't help humming along….
Writing in German and speaking the language are two quite different matters. I'm very shy to speak but the more beer I drank the better my German was getting! Believe me – learning to speak languages by drinking beer is much more fun than studying grammaire books!!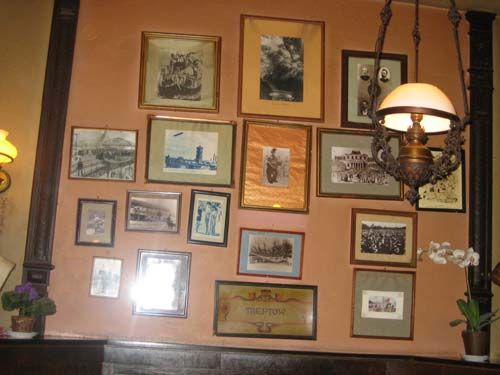 During the evening Viktor told us he has made a card and bought a little present to cheer up Marcus Röbke who had been sick (I heard he has recoverd and is back now). We wanted to pay our share but Viktor suggested we collect some euros to buy something to Knuti instead. He's a generous guy, our Viktor!! Gudrun volunteered to take care of the collecting the money and she also promised to buy a huge salmon to our bear boy. Thank you, Gudrun!
The evening went on with lots of laughter and chatting across the two tables. Unfortunately verything has an end and about midnight it was time to wish good night and try to get some sleep before it was time to go to the zoo again.
Thank you all for a wonderful evening!!!!
Photos from the zoo with Knuipians and of the evening in the Kneipe are on a 'secret' page. I will email the link to everybody. If you shouldn't receive the link, please, email me knutitours@aol.se
06.09.2008
This morning we had a late breakfast. The party last evening required a loooong sleep….
Entering the  Zoo we saw many familiar faces in front of Knuti's enclosure. Inge was saying goodbye to Knuti because her bus was leaving soon back to Copenhagen. Gudrun, Simone, Manfred, Peter, Bea and Gina were there, too. I was feeling a little melancholic because this was the last day with Knuti and his friends.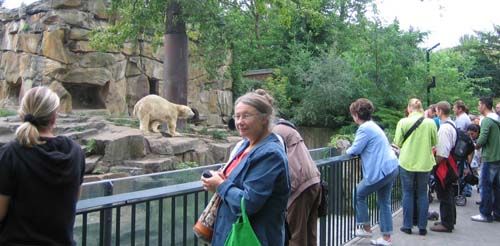 Knuti was taking it very easy and walked about a bit, then went and lied down in front of the door to his cave, then walked again a bit. He was – needless to say – so sweet with his cute ears, his lakritznase and almost white fur. Somehow he manages to look very bid and very small at the same time. He really IS a magic bear!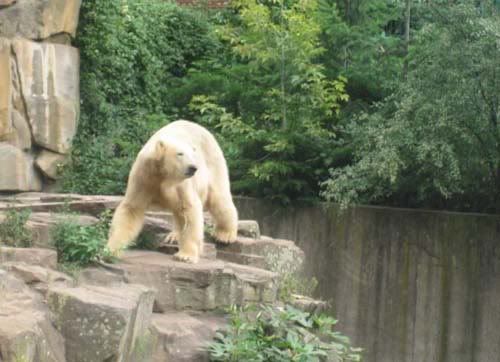 We took a little tour to see a little more of this wonderful zoo. One of the reasons why the Berlin Zoo is such a cosy place are the friendly keepers always willing to answer the questions from the visitors, signing cards, letting us take photos. That's very special for Berlin! Another reason is, of course, that you always meet friendly Knut fans there. The main reason is however our Knutito!!
 Of course, we had to visit Bao Bao who was as cute as ever eating his bamboo so elegantly.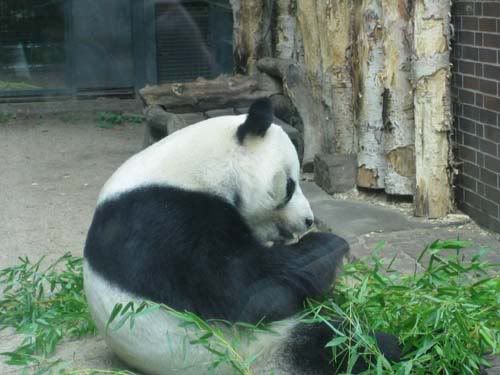 The mighty tiger was at home, too, but he was moving so fast it was impossible to take a photo. Max and Moritz were playing hide and seek on the grass and seemed to have a lot of fund. Unfortunately we couldn't see the jaguars – we just have to wait till next time! We also said bye bye to Kito, the wolves, the brown bears and to Herr Bhumipol with the family! Viktor took a hilarious picture of him: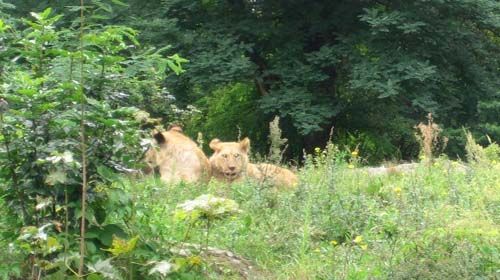 Now it was Knuti's feeding time again so we hurried back to his enclosure. The feeding was done by TD even today. Vesa made sure he had a god spot to take photos but guess what happened! By mistake he had pressed the button for video and as a result we have a very short, very shaky video but no more photos – the bl….y camera had lost its memory!!!! Why do these things always happen to us. Last time I forgot to load the battery….
Suddenly I felt a tap on my shoulder – it was Christina M – how nice to meet her,too. Viktor and Andrea also joined us just in time for Knuti's feeding.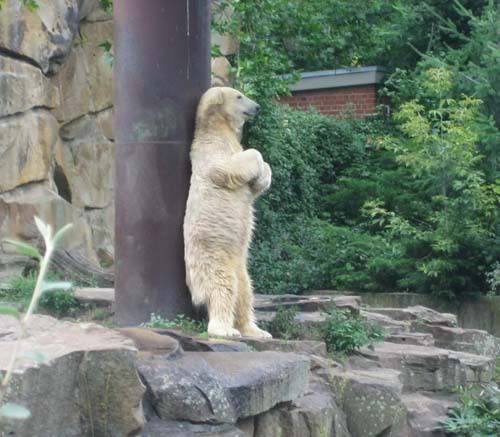 Knuti first had an aperitif – a piece of meat – and then the usual stuff, salad, carrots, fish….TD even threw something that looked like a toy but I couldn't see what it was. I quess it was a gift from a visitor. The feeding was, of course, wunderschön to see!! I can never see enough of our Dream Team!
Gudrun had a word with TD and they agreed Knuti would get the 'Knuipe salmon'' on next Wednesday. I guess you've all read her report from that feeding and also seen the photos.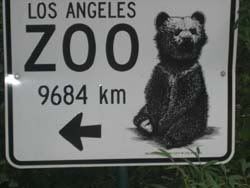 After the feeding we went to the Waldschenke to enjoy a currywurst – it's a 'must' in Berlin! Viktor and Andrea came to say goodbye for this time and we agreed to meet again. I hope they are both having a great vacation in France.
The worst part of visiting Knuti is to say goodbye to him! He was looking so lovely and I sayed a little prayer he would be here in December. As an answer to my prayers I met SylviaMicky who introduced me to a lovely lady – Doris Webb! That lady has done a marvellous job collecting signatures for Knuti's staying in Berlin (of course, there are a lot of Knuti fans helping her). She reassured me Knuti will be in Berlin in December and she promised to keep that special spot I was standing on reserved for me! She even gave me a lovely CD with Knuti and TD fooling around together. Thank you, Doris!
The last look at Knuti, the last wave, the last kiss blowed to him….goodbye Knuti! When I write this it's 83 days to go until your birthday and we'll be there!!!!
Vesa and I want to thank all the Knut fans we met for a wonderful time in Berlin! As I already said many times before – you are the best ambassadours of your beautiful city!
  You'll find a few more photos here