04.09.2008
When the alarm clock rang at 5.00 I was already awake because this was THE day - finally we were going to Berlin and Knuti!! I had ordered a taxi the evening before and it came exactly at 6.30. The bus also started in time so we were on our way. The journey turned out to be very 'knutitourlike' with lots of mishaps. Usually I would have been very annoyed when nothing works but thinking of meeting Knuti made me just laugh at everything. I think the bus journey deserves a story of it's own....
First we crossed the bridge between Sweden and Denmark, continued our journey to Gedser where we took the ferry to Rostock. The excitement was increasing all the time when we got nearer and nearer Berlin where we arrived in the afternoon. I was gladly surprised when we entered our hotel room - smoking was allowed!!!!
It was too late to go the zoo but we had been exchanging emails with Dumba and had made an appointment in a restaurant called Vapiano located quite near our hotel. I tried to call Dumba to tell her we had arrived but could only leave a message to her answering service. Later in the evening I realized I've left a message to someone but not to Dumba! There must be a puzzled German lady somewhere wondering who that English speaking idiot is, hahaa....
Well, we went to the restaurant and suddenly we caught sight of Dumba, Gitta, Bea and Inge. Of course, there were a lot of 'can't believe this is true', 'I have to pinch myself to make sure I'm not dreaming', 'how wonderful to meet you' ....Because the restaurant was very crowded we decided to go somewhere else. Finally we found an Italian place Avanti and had a delicious dinner together. Naturally we even drank a couple of Knutsteiners! We had such a good time! So much fun, so much laughter! We even had our fluffy friend with us. He came in Gitta's bag. Well, it's a polar bear puppet who acts just like a real one. There we were - ladies around 50+ - playing with the plushy toy!! Thank you friends for a wonderful evening!!
It was quite late when we went back to our hotel accompanied by Dumba who kindly walked us 'home'. She even promised to wake us up next morning so we wouldn't sleep too long and miss the morning at the zoo! 
 05.09.2008
When we arrived at the zoo we met Inge and walked together to Knuti's enclosure. Knuti was having a nap but occasionally he lifted his head so as to check we were still there admiring him. He was so SWEET lying on his sandbed with Daddy's pants under his head. When he sleeps he still looks like a little cub. I felt a lump in my throat and the tears came, of course....Oh boy, this was the moment I had been dreaming of since March! It was so good to see Knuti being back to the normal now that Daddy is back from his vacation. I heard he had been running about the enclosure all the time the last days before TD came back but now everything seemed to be OK:
After saying hello to Knuti it was time to say hello also to the Knutians who were already at the zoo. Gitta, Bea, Dumba, Monika, Angelika, Ewi, SpreewaldMarion, Webbiene, Barbara, Yeo, BarbaraBerlin, Annemarie, Bärbel and many others....We exchanged small gifts and started chatting. I find it fantastic that it always feels like meeting old friends even if it's the first time I meet a 'new' Knutian. There are never any problems to start talking with each other! I'm not a very social kind of person but at the zoo with fellow Knutians I definitely feel like home!
By the way - we kept our promise to blow kisses from you all to Knuti! Perhaps there were other visitors who wondered what on earth we were doing but who cares!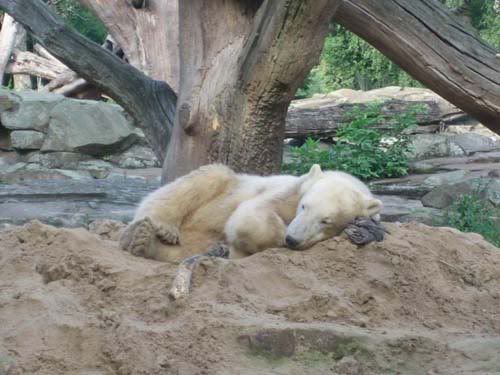 I had ordered a special Knutitours sweater - we can call it my zoo uniform. There's a picture of Knuti and below it there's a text Knutitours. Needless to say I felt very elegant, hahaa....Vesa had a cap with Knutitours printed on it so we were properly dressed for our zoo visit. I've been trying to convince him that we simply must visit Knuti more often since we now have our special uniforms!!
After admiring our fluffy friend for a while it was time to go and see the feeding of the big bears. There was already quite a large crowd waiting for the show. TD took care of the feeding and I must say I'm very impressed by his throwing the meat to the bears. Lars was standing up and waiting to be served directly in his mouth and he even succeeded many times. No need to go into the water more than necessary! Even his ladies got their fair share of meat. Then TD moved to the glas fence and threw some bread in the water. The bears were very fast catching the bread. They look so nice keeping it between the paws while they eat. That's what I call beautiful manners at the dinner table!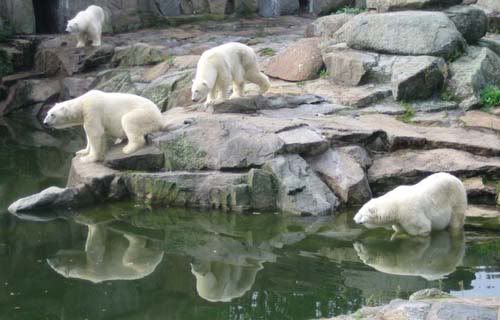 Since I have heard TD drinks a lot of coffee I had let my sister-in-law make a special coffee mug for him - there's a polar bear on the other side and his name on the other. Now I had to be brave and give it to him! Easier to say than to do!! Well, I had to do it now so I simply told him how much I appreciate everything he does for the bears and especially for Knuti and gave him the mug. He thanked me and seeing Vesa with his camera he asked if I wanted a photo of us together. I give you two guesses if I wanted a photo....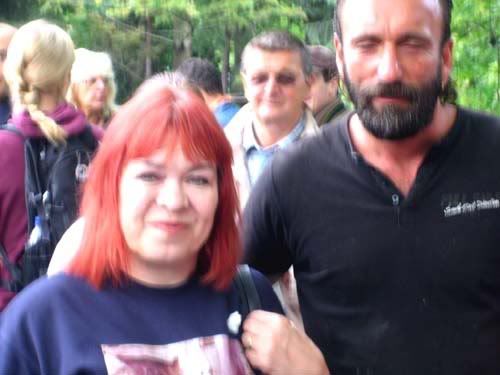 After modelling for my private photographer we joined the group and went to see the feeding of Knuti's neighbours. TD put some fruit, nuts and bread in the holes of the tree so the bears have to 'work' a little to get their food. It was so funny to see them eating. Maika never eats her bread without softening it in the water and so she did even this time. Priceless to see!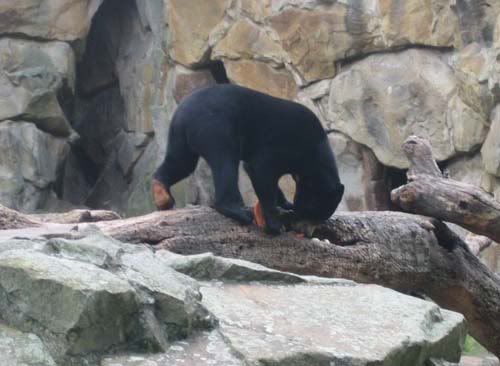 Since there are so many beautiful animals we made a little tour at the zoo. Little Kito was so beautiful with his little horn.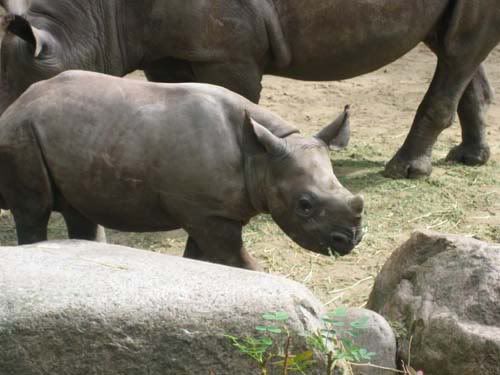 When we were admiring Kito we suddenly heard a cry 'oh, look here'! There was a young keeper, Stefan, holding Adolpho. Of course, we all hurried to see that little charming baby. What luck! Usually people have to wait very long before they can see him so close but this was a perfect timing! I can't describe the feeling when I actually was allowed to touch him! He didn't seem to be disturbed by those many hands touching him. He was leaning his head on the keeper's shoulder and looked quite happy. Even Adolphos 'daddy' Herr Messinger (I hope I got his name right) showed and answered to all possible questions. This was a real high light of our zoo visit!
Now our feet started to remind us of their existence and we dediced to take a break at the Waldschenke. We had to put three tables together to get enough place for everybody. All the time I had to convince myself I wasn't dreaming but no, there we were sitting among Knutians and having a great time!
After the break with food and coffee we started  walking back to Knuti. It was soon time for his feeding. On the way we said hello to the wolfs and the bears, too.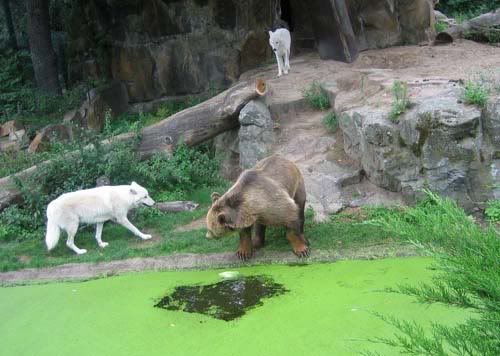 When we came to Knuti's enclosure the little fellow was awake eagerly waiting for Daddy and his yellow bucket. By this time even Viktor and Andrea had joined us. It was so nice to meet this lovely couple! SpreewaldMarion was keeping a good spot for us - there was a big audience as usual waiting for the dinner show. I even met friends from Hartmuth's blog - Natty who takes wonderful photos and SylviaMicky, also a great photographer. SylviaMicky told me there's going to be a meeting with representatives from Berlin, Neumünster and Rotterdam on the 9th of December where Knuti's future will be discussed. Let's keep our fingers crossed Knuti can stay in Berlin! At least we know now he'll be in Berlin on his second birthday. Hurray! Hurray!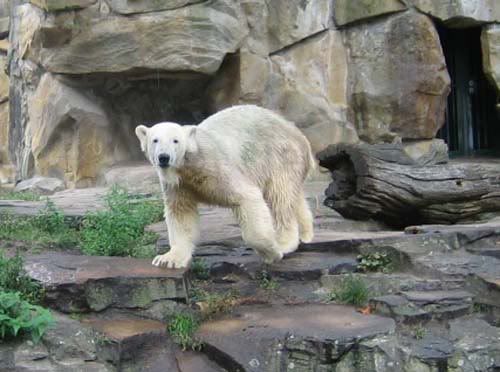 It was so good to see our dream team having fun together! When TD throws the food into the moat Knuti's very fast to dive after it. SPLASH, SPLASH!!! Then he always carries the food to his dinner table and eats it there. Sometimes TD cheats a little and throws the food to 'wrong' direction but our clever boy always finds it! The favourite dishes are, of course, meat and fish. The sallads, carots and potatoes can wait....but he eats them as well....Today there was an extra large salmon - a gift from a visitor but I didn't find out from whom.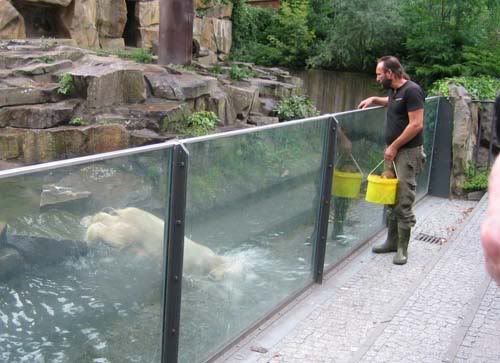 While I was watching the feeding I suddenly remembered the cards I had promised to send to our American friends. Heeeelp!!!! What shall I do? I can't go harrassing that poor man again. Well, I had a conference with Yeo who promised to ask TD for autographs. When the feeding was over we saw him smoking a cigarette and Yeo told him I've come from Sweden to see Knuti and I'd like to send cards with his autographs to my friends. No problems, he signed the cards and even thanked me for the present and said he liked it very much! I felt like a fat cat getting an extra portion whipped cream!!!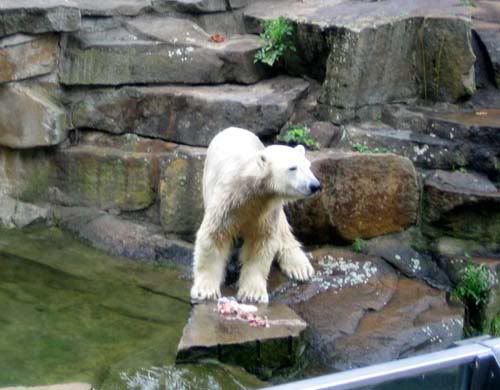 The Knutian group was growing bigger all the time - even Danielle, Gudrun, Simone and Marion K had joined us. Time for a break at the Waldschenke again! We were busy signing many cards but had even time for an afternoon Knutsteiner! After having a wonderful day at the zoo it was time to get some rest before it was time to the party at the Kneipe!!
To be continued.....