Story by Teddybärenmutti, Images by Mervi
Originalphotos by Annemarie, Marion K, Simone R, Viktor and Hartmuth
Alone at home
- Knut, Daddy wants to speak with you.

- Okay, but first I must finish my training for the Knulympics.... 85, 86, 87..and 88, 89, 90, 91...just a couple of more..92, 93.. 100!! Done!
- Knut, there's a serious (= ernst in German) matter I want to discuss with you.

- Oh, what's the matter with Ernst?

- There's nothing wrong with Ernst - I mean I've got something important to tell you.

- Daddy, Have you problems? You can always talk to me.

. No, I have no problems.

- What is it then? Do you want to tell me about the flowers and the bees? I know already everything about the flowers and the bees. Here in the zoo there are so many beautiful flowers. I love flowers. The brown bears have told me how the bees make honey!
- No, I don't want to tell you  how the bees make honey. Daddy wants to tell you that he's going on vacation and will be gone for a couple of weeks. But I'll be back to you so don't be sad, my son. Your dear Uncles will be here for you.

- Dear Daddy, last summer I was just a little cub och missed you so much but now I'm a strong teenager and I understand that you, too, need some vacation. As a matter of fact, I've made some plans for you. I've read in my blog that people make plans for their vacations so here's a list for you:
1. Sleep late in the mornings
2. Coffee and croissants for breakfast
3. Morning nap
4. Play with old pants
5. Fore noon nap
6. Wait for the lunch
7. Flying lunch (the Pizza cab will come flying)
8. Have a refreshing swim
9. Afternoon nap
10. Read my blog
11. Have an evening snack and a Knutsteiner
12. Go to mulch
- Thank you, Knut! You are so thoughtful. Daddy's very proud of you!

- Have a happy holiday, Daddy! I hope you'll be back soon. You take care during your vacation! Don't worry - be knuppy!

-----------------------------------------------------------------

In the evening
- Hello, hello! Is this the brown bear enclosure?

- Yes, Bernie's speaking.

- It's me, Knut. What are you doing?

- Nothing special.

- I have my enclosure all for myself now that my Daddy's got vacation. I have some apples, pears and even some salmon. I thought we could have a party! 

- That would be very nice but how on earth do we get there? 

- Don't you worry, Bernie. I have planned everything. I'll be with you in a moment!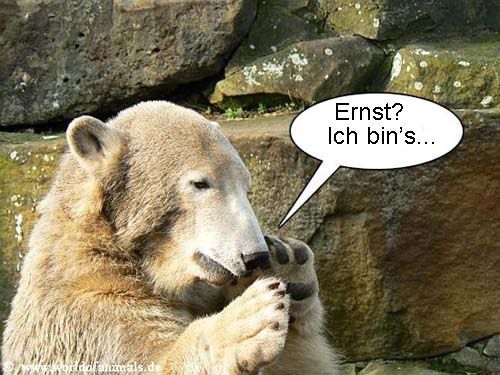 - Halloo, Halloo, Is this the Kragenbear enclosure?
- Yes, who's there?

- It's me - your neighbour Knuti. What are you doing?

- We're arguing! Everything's so terribly boring and we have nothing else to do!
- I thought we could have a party in the evening in my enclosure. I'll come and fetch you guys. 

- Party? That sounds very knutish! Of course we'll come! I bring some honey with me!

- Halloo, Halloo. Ameisenbären. There's a party tonight in my enclosure. Are you coming?
- Thank you for the invitation but we can't come. It would be very nice but our little Adolpho must sleep now.

- No problems. I'm very strong och can take the little one over here in his carriage.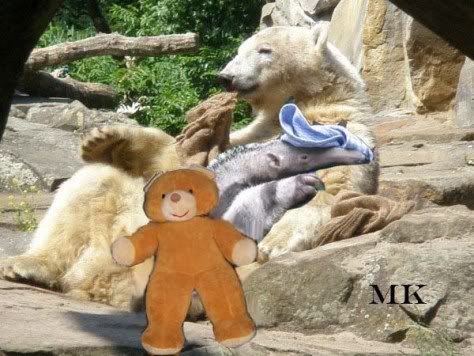 - Trallallaa, taida daa dum daa

- I must send an invitation to Flocke, too! Oh, these copy machines are no good! And now I have to get the ladder!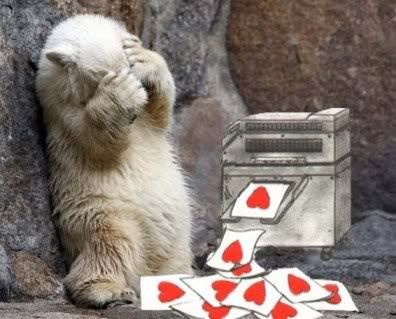 - Kuckuu Braunbären! Bernie! I put the ladder as a bridge between our enclosures. Now you can just step into my house! It's quite easy. Okay, now we'll help the Kragenbears over here and then the Ameisenbears.

- Huhuuu Kragenbären! Here we are! Just go over the 'bridge'! You can do it - you are all such good climbers...
- And now to Ameisenbears. Schhhhh.  The little Adolpho is already asleep. Be careful with the baby. Bernie, you take the ladder and I take Adolpho's carriage. Ready? OK, now I just hide the ladder in my cave.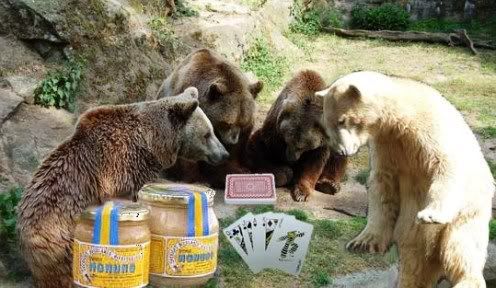 - Dear Knut, you really are a Miracle Bear and a Wonderbear! How did you get this wonderful idea?

- Well, I'll tell you how I got the idea. That stupid man with the ladder was here again. The guard threw him out of the zoo and took the ladder away from him. Then he forgot the ladder in my cave and the trainee-keeper forgot to lock the door between my enclosure and the cave. Hihihiii....I welcome all the trainee-keepers, hahaa...
But now - let's party! Who wants to have an apple or a pear? Maybe I could treat you with some salmon?

- We have honey, sallad and carots...

- Does anybody fancy some ants?

- Eating is so fun. It feels so good to have one's stomach filled with all kinds of delicious food! Now we can start dancing, swimming, climbing, singing, playing...

-PROSIT ALLE. LET´S HAVE FUN!!!

- This is a real zoo bear picknick!

- Tat tittaada tatittadaa. ....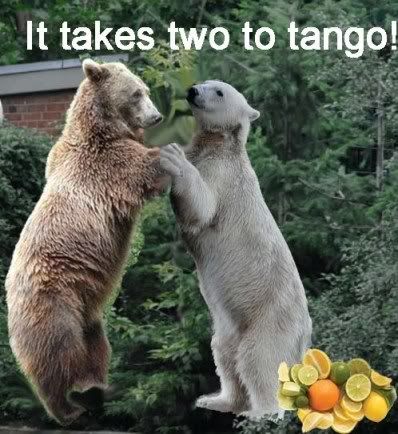 ------------------------------------------------

Am Morgen

- Herr Zooooodirektööööööööööör!! It's Ronnie from the Bearquarters. The bears have disappeared!

-WHAT?? What are you talking about? The bears are gone? Are you crazy? Have you lost your mind?
No, I'm not crazy! I haven't lost my mind! The bears are gone. Only the big polar bears are here.

- Are you quite sure?
- YES! The brown bears, the kragenbears, the ameisenbears and Knut - they are all gone!

- Oh my, I must go to the elephants. Oh no, what shall I do? I have to call the police, alarm the Bundeswehr and inform the Bürgermeister....I'm the most unfortunate zoo director in the whole world! I must go to the elephants....What's happening in this zoo? Has the yellow press anything to do with this? Or maybe international animal smugglers? What shall I do?? What shall we tell the international media when they hear Knuti's gone? Mein Knut, what to do, what to do???? ....I must go to the elephants...

- Halloo, Herr Zoodirektör, this is Marcus from the Bearquarters.
- I have no time to chat with you at the moment. I have such huge problems...

- I just wanted to tell you we found the bears.
- What? I must go to the elephants...Where are the bears? At Zoobahnhof?

- No, no, no. They are all in Knut's enclosure.

- In Knut's enclosure? How is that possible?

- I don't know. What shall I do with Herr General aus Bundeswehr, Polizeichef von Bärliner Polizei and Herr Bürgermeister?

- How should I know? Give them a cup of coffee in Waldschenk and a season ticket to the zoo - my treat!

- Anything else, herr Zoodirektör....

- Anything else? Isn't that enough??

- It seems to me the bears are smiling....no, I think they're laughing loud!!