05.06.2008
Text: Mervi
Originalphotos: Christina M, Liesel, Nene, Viktor, Hartmuth
Translation into German: Doro II
Unfortunately many of us can't  be in Berlin and wish Knuti a happy birthday but I imagine it could be like this:
Knuti woke up very early in the morning - he knew it was a very special day - his 18 months birthday! He was little anxious - what if noboby remembers! To give a little hint to the visitors he put on a funny hat he had found on a second hand shop. He has seen that birthday children wear this kind of silly hats. 'Oh dear, I wonder if they remember... Knuti was thinking.
Text: Mervi
Originalfotos: Christina M, Liesel, Nene, Viktor, Hartmuth
Ûbersetzung: Doro II
Leider können viele von uns nicht in Berlin sein und Knuti Glück zum Geburtstag wünschen, aber ich habe mir vorgestellt, wie das ablaufen könnte:
Knuti wurde morgens sehr früh wach - er wusste, was für ein besonderer Tag heute war - er wurde anderthalb Jahre alt! Er machte sich ein wenig Sorgen - was ist, wenn sich niemand daran erinnert? Um seinen Besuchern einen kleinen Hinweis zu geben, setzte er einen komischen Hut auf, den er in einem Second-Hand-Laden gefunden hatte. Er hatte gesehen, dass Geburtstagskinder solche albernen Hüte tragen. "O mein Gott", dachte Knuti, "ob sie wohl daran denken?"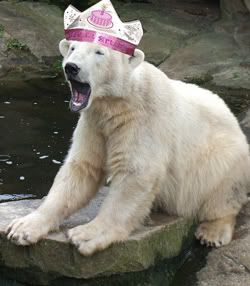 What's this? I hear voices - it's the Wild Herd and they are singing Happy Birthday, Dear Knuti....THEY REMEMBERED, THEY REMEMBERED!!!
Juhuuu...here I am!!1 What a lovely surprise! I had totally forgotten it's my birthday!
Was ist das? Ich höre Stimmen - das ist die wilde Herde, und sie singt Happy Birthday. Lieber Knuti … SIE HABEN DRAN GEDACHT, SIE HABEN TATSÄCHLICH DRAN GEDACHT!!!
Juchhu ... hier bin ich!! Was für eine tolle Überraschung! Ich hatte meinen Geburtstag total vergessen!
 From the Wild Herd Knuti got a lovely card and two huge baskets - one filled with croissants, the other filled with all possible kinds of toys. Also a gigantic Eisbomb was thrown into the water!
'I must hide the basket with croissants so my keepers won't take it away!- Hihii - I have a lot of betthüpferls for tonight' Knuti thought.
Von der wilden Herde bekam Knuti eine hübsche Karte und zwei riesige Körbe - einer davon war mit Croissants gefüllt, der andere mit allen möglichen Spielsachen. Auch eine gigantische Eisbombe wurde ins Wasser geworfen!
"Ich muss den Korb mit den Croissants verstecken, damit ihn meine Pfleger mir nicht wegnehmen! - Hihii, ich habe jetzt ganz viele Betthupferl für heute abend", dachte Knuti.
Then the postman came with a bunch of cards and parcels. Flocke sent a picture of herself and the beautiful card made Knuti smile happily - he even flushed a little - his pink face was so cute!
Dann kam der Postbote mit einem Haufen Karten und Päckchen. Flocke hatte ein Bild von sich geschickt, und die schöne Karte zauberte ein Lächeln auf Knutis Gesicht. Er wurde sogar ein bisschen rot - sein rosa angelaufenes Gesicht war so niedlich!


Knuti opened his presents and, well, actually ate many of them right away but this huge cake and the King Size Pumpkin Burger he saved. 'I'm sure these come from Texas, I happen to know a lovely lady there and oh boy, does she know how to cook! She also knows that a growing bear needs large portions', Knuti said.
Knuti öffnete seine Geschenke und, na ja, aß viele davon auf der Stelle auf. Diesen Riesenkuchen und den King-Size-Kürbis-Burger aber sparte er sich auf. "Das kommt bestimmt aus Texas. Ich kenne dort zufällig eine reizende Dame, und Mannomann, kann die kochen! Sie weiß außerdem, dass ein Bär im Wachsen große Portionen braucht", sagte Knuti.
There was also a card from Knuti's Papa Lars and Mama Tosca! Knuti got tears in his eyes when he saw how sad his Mama looked because she couldn't give a birthday hug to her bear boy. 'Don't be sad Mami, I'm very near you! We can't touch each other but I'll blow some kisses to your direction - I'm sure you can catch them'.
Da war auch eine Karte von Knutis Papa Lars und seiner Mama Tosca! Knuti standen die Tränen in den Augen, als er bemerkte, wie traurig seine Mama aussah, weil sie ihren Bärenjungen zum Geburtstag nicht umarmen konnte. "Sei nicht traurig, Mami, ich bin ganz nahe bei dir! Wir können einander zwar nicht berühren, aber ich hauche ein paar Küsse in deine Richtung - ich bin sicher, dass du sie auffangen kannst."
Knuti wiped off his tears and started wondering: 'Where's Daddy? Has he forgotten it's my birthday?'
NO WAY! Daddy had not forgetten! He brought Knuti a wonderful strawberry cake and lots of colourful balloons! Knuti was laughing: 'The balloons are funny things - I can make them disappear! Just a little touch with my claw and phuiiiii, the balloon is gone....Thank you Daddy!'
Knuti wischte sich die Tränen ab und fragte sich: "Wo ist Papi? Hat er meinen Geburtstag vergessen?"
ABER NEIN! Papi hatte ihn nicht vergessen! Er brachte Knuti einen wunderschönen Erdbeerkuchen und viele bunte Luftballons! Knuti lachte: "Die Ballons sind lustig - ich kann sie verschwinden lassen! Nur eine sanfte Berührung mit meiner Kralle, und huiii, weg sind sie … Danke, Papi!
Knuti had only one wish left - he wanted to play with Daddy like in the good old days. 'Ich bin noch een kleenet Kind' Suddenly a miracle happened - Daddy was there with Knuti and they had such a good time together!
Knuti hatte nur noch einen Wunsch - er wollte wie in den guten alten Zeiten mit Papi spielen. "Ich bin doch noch een kleenet Kind." Plötzlich geschah ein Wunder - Papi war bei Knuti, und sie hatten so viel Spaß miteinander!
'What a wonderful birthday! I thank you all from the bottom of my heart for making this day so special! I want to give you each and everyone this beautiful bunch of roses!
Was für ein wundervoller Geburtstag! Ich danke euch allen aus tiefstem Herzen dafür, dass ihr diesen Tag zu etwas Besonderem gemacht habt! Und als Dank bekommt ihr diesen wunderschönen Strauß Rosen!
 Happy Birthday Knuti by Doro II
 ! wish you joy, I wish you fun,
 I wish you ice bombs by the ton,
 I wish you happiness galore,
 I wish you everything - and more.
 Let's celebrate, my furry friend,
 Oh how I'd love to shake your hand
 I mean your funny little paw
 The cutest paw I ever saw!