20.07.2008
Photos by Vesa
Skånes Djurpark (Scania Animal Park)  isn't an ordinary Zoo - it's rather a forrest where you not only can see nordic animals but also have a picknick or mini BBQ! A lot of people were busy grilling and preparing all kinds of side dishes when we visited the park today. Thanks to the big area it's possible to grill without disturbing the animals or other visitors.
The 'inhabitants' are typical nordic animals - many of them rescued after car accidents where the mother has been killed. The park is sponsored by different companies and private persons.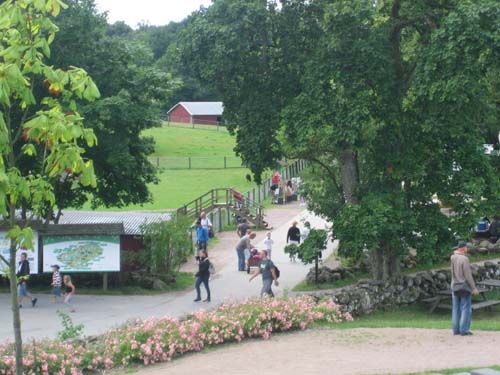 The Wolves' enclosure is actually a little forrest where they have plenty of space to move around. If you're lucky you can study them quite closely. Today the wolves chose not to come close so we only caught a glimpse of a couple of the flock. The Alfa couple's names are Viljar and Vera and the whole flock is relatively young.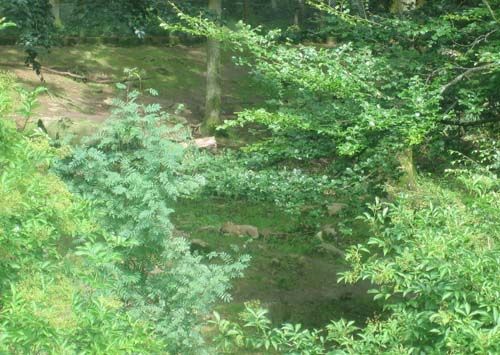 The wolves are grey-brown and that's a perfect camouflage colour don't you think?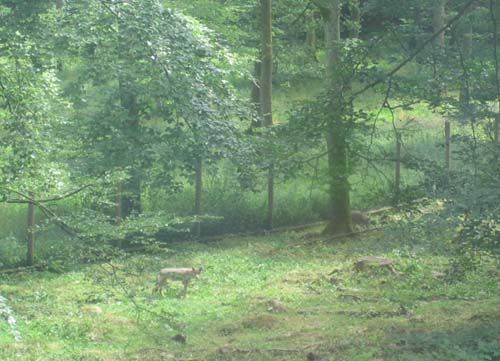 The great thing about Skånes Djurpark is that there's so much space for the animals but for the visitors it's almost impossible to see all the animals during one visit. Especially today when there were so many families with small children many animals didn't show at all. And let me tell you - I understand them perfectly well! I felt I needed ear plugs....
The wild cats Ask and Embla have two lovely kitties but they were too fast for Vesa so he didn't succeed in taking a picture of them.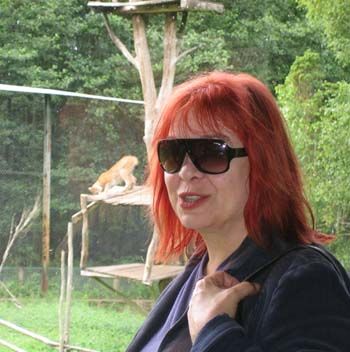 And now - may I introduce you tp some of my favourites - the lynxs! The 'married' couple are called Diego and Diva and there were two cute cubs, too, who haven't got any names yet. They have a beautiful enclosure with lots of trees to climb and a little pool although I've never seen any of them wet their paws there....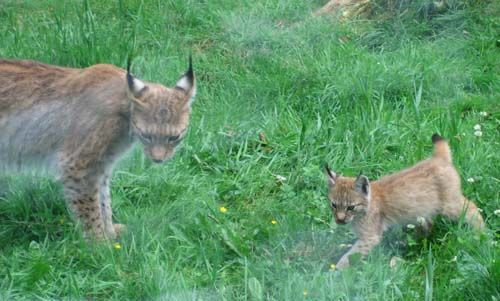 Playing hide and seek with Mommy is so fun. Because I'm still so little it's so easy for me to hide....Mommy's always busy looking for me, hihii...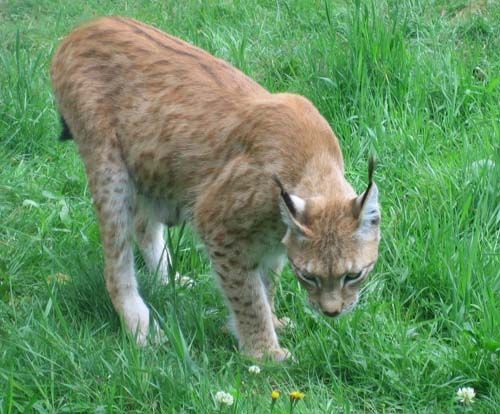 Aah, I just love smelling the beautiful flowers!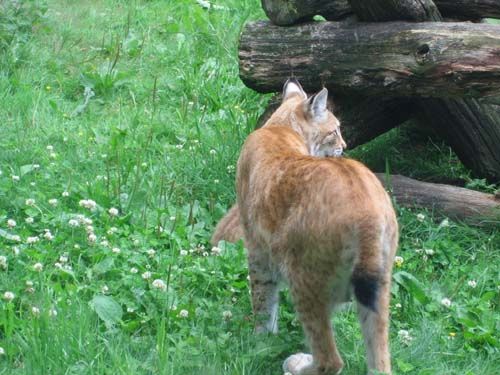 Cute ears and cute tail!!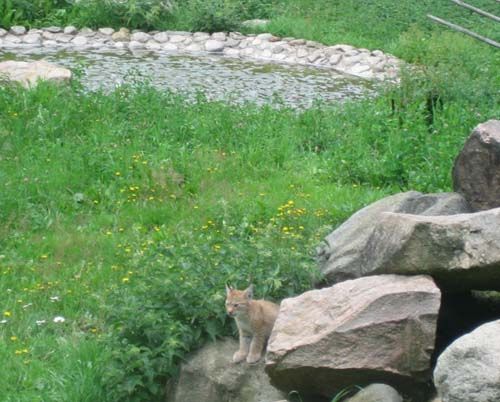 For this little fellow these stones must look like Mount Everest!
The greatest love of all!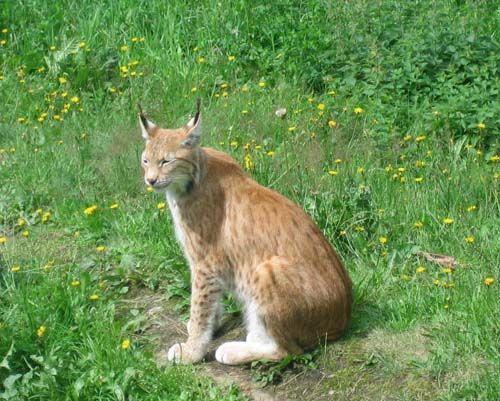 We cats can smile, too!

The Empire Lynx Building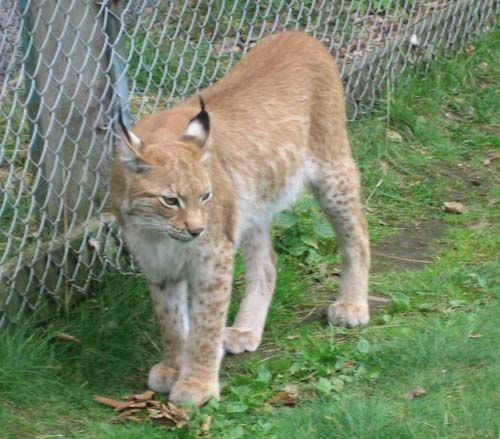 The lynx looks almost twice this size in the wintertime when the fur is much thicker and fluffier but I think they always look gorgeous.
After spending a couple of hours with the lynx family it was time to meet a real Finnish Mesikämmen - the brownbear Lisa! She comes from Finland and has lived in Skånes Djurpark for many years now.
The funny thing with the bears is that they are always willing to 'perform'. As soon as there are visitors they will show how skilful and clever they are!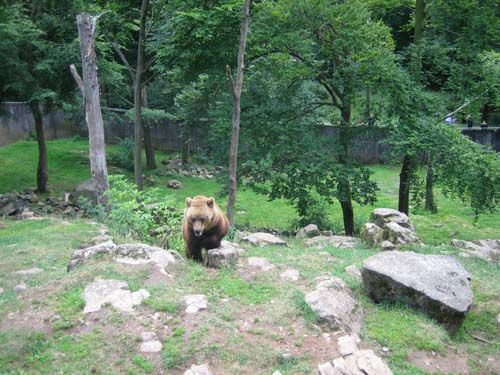 I'm coming, I'm coming, don't  go away!!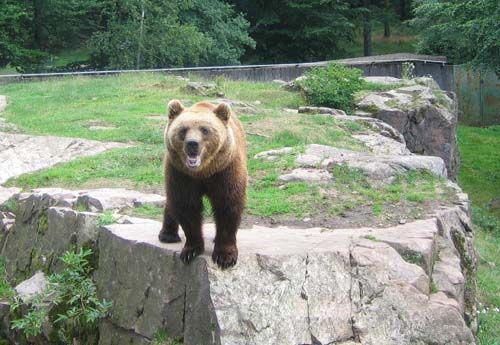 Now you can admire me a little closer. Don't you think I'm impressive and beautiful?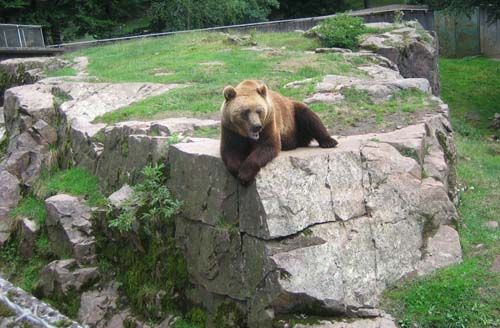 Waiting for my dinner!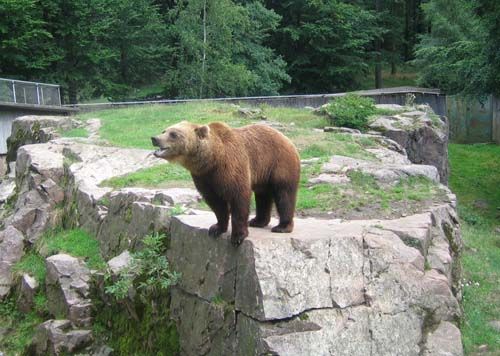 DID YOU HEAR ME? Oh, the room service isn't what it used to be!!!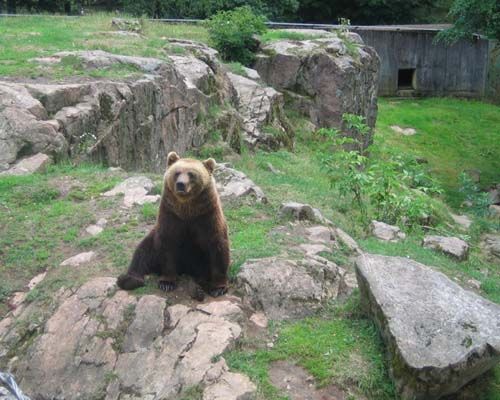 Maybe it helps if I pose nicely??!!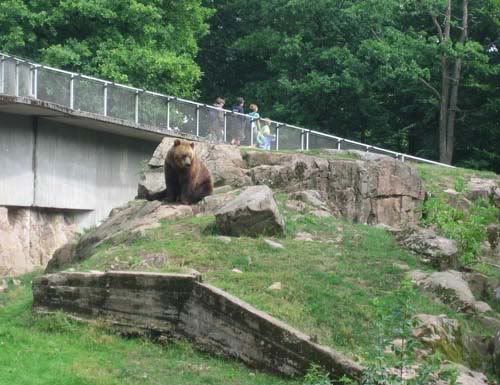 My home is my castle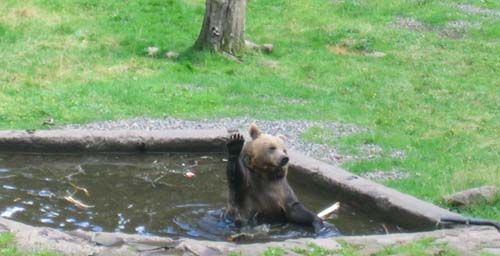 Hello there! How do you like my bath tube? Could someone throw me Knuti's Fur Shampoo for Bears, please?
In the park live even cows, horses, sheep, pigs, rabbits...all kinds of 'farm animals'. I think it's nice for the children from the cities because many of them have never seen a horse or a cow, for example...
I'm a very friendly horse who loves to have a chat with the visitors. Haven't I got a majestetic prophile?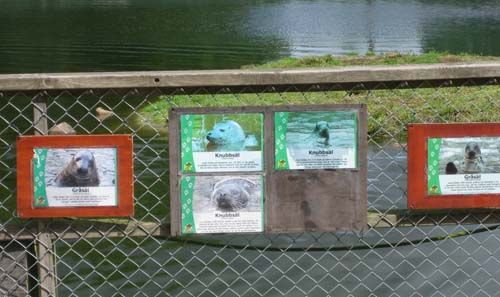 In this park the animals have names and there are also signs presenting them and even telling something about their personalities, for example one on the seals always 'sings' very loud by the feeding, another keeps waving to the public all the time. Well, it's easy to know who is who!
Here's another example of a sign telling us that the polar fox parents are Assie, born in 2004 and his wife Annie, forn in 2007 and they now have cubs born 1.06.2008. Unfortunately we didn't see them this time.
And what have we got here? The best singer or should I say the best howler in the park!
We hope we have given you a picture of how this park - or forrest - looks like. We prefer to visit it in the autumn or in early spring when there are not so many visitors. The chance to see more animals is much bigger then and one can almost feel like walking in the wilderness...July is the summer holiday season in Sweden and  the park is crowded all the time which of course, is a good thing for the park - they need all the income they can get.
Greetings from Vesa & Mervi