There have been many wonderful moments with our Dream Team but these two occasions always come to my mind when I think of Knuti and TD.
Happy reunion after TD's vacation in August 2007
We had all been worried about how Knuti would manage during TD's three weeks long vacation. This was the first time they were separated such a long time. Our bear was a brave boy and did just fine.
I remember so well the day when TD came back. The whole Knutian world was waiting for the first pictures of the reunion. A friend sent me an email to my work: 'Christina M has announced her pictures on Knuti's blog. Make sure you have a handkerchief by your knuputor before you start looking'. That was a good piece of advice because tears of joy were running down my cheeks while watching the wonderful photos.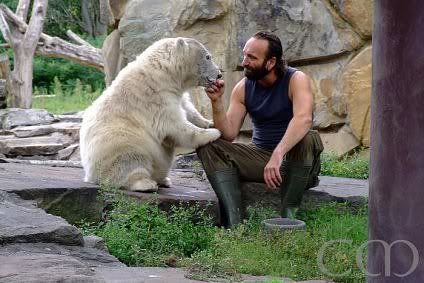 Christina M's photos 27.08.2007

Early morning fun in October 2007
I never had a chance to see Knuti and TD playing together - except a Knuti show in May 2007.  Some autumn mornings TD used to come earlier so he could fool around with Knuti before the working day really started. These happy mornings also had an abrupt ending but as far as I know they continued to play 'behind the curtains'.
When I look at Marion K's pictures I can see a man and a bear totally devoted to each other. What a beautiful sight!