08.08.2008
Story and images by Knuti (with a little help from Mervi)
Original Knuti, TD and Flocke by Viktor and Gudrun
 Hello everybody! Today it's time for the grand opening of the Knulympic Games 2008 in Beijing. I've heard they call the Stadium the Bird's Nest. I suggest the Olympic Stadium in Berlin will be renamed and called Knuti's Höhle! A very suitable name!!
They said I'm too young to participate but I think the real reason is that I would be invincible in all disciplines! Besides I'm the only athlet that is 'clean' - I only use natural dopes as food and water. I would be a good example to the youth all over the world.
Even if I can't participate in the games I've been training hard - maybe they will change the rules and I can compete in London 2012!
Hallo, alle miteinander! Heute ist es Zeit für das große Eröffnungsfest für die Knulympischen Spiele 2008 in Peking. Ich habe gehört, dass das Stadion Vogelnest genannt wird, und schlage vor, dass das Berliner Olympiastadion in Knutis Höhle umbenannt wird. Ein sehr passender Name!!
Ich sei zu jung für eine Teilnahme, heißt es, doch meiner Meinung nach ist der wahre Grund, dass ich in allen Disziplinen unschlagbar wäre! Außerdem bin ich der einzige Athlet, der "clean" ist - ich benutze nur natürliches Doping wie Futter und Wasser. Für die Jugend der Welt wäre ich ein gutes Beispiel.
Selbst wenn ich an den Spielen nicht teilnehmen kann, habe ich hart trainiert - vielleicht werden ja die Regeln geändert, und ich kann mich am Wettbewerb in London 2012 beteiligen!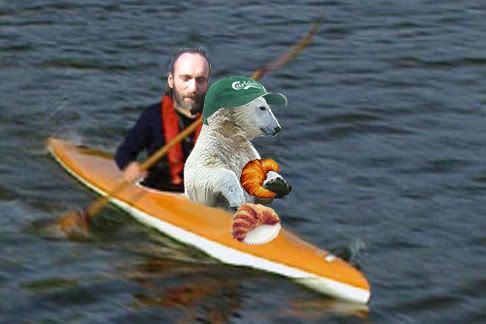 I love, of course, all the sporting events in the water. You've seen a lot of pictures of me swimming and diving so here's one where I'm practising paddling with Daddy. I tried paddling but it made me very exhausted so I got a better idea. Why can't Daddy do the paddling and I can sit on the front of the canoe and enjoy some croissants....Every now and then I scream 'Go, Daddy, Go' so he gets extra energy! I'm a kind of cheerleader...We are quite a Dream Team don't you think?
Ganz klar, dass ich vor allem die sportlichen Disziplinen im Wasser liebe. Ihr habt viele Bilder von mir gesehen, wo ich schwimme und tauche. Und hier ist eins, auf dem ich mit Papi paddle. Ich habe wirklich versucht zu paddeln, aber das hat mich zu sehr erschöpft. Also ist mir eine bessere Idee gekommen. Warum kann Papi nicht das Paddeln übernehmen, und ich sitze vorn im Kanu und genieße ein paar Croissants … Ab und zu schreie ich dann "Go, Papi, go", weil ihm das zusätzliche Energie verleiht! Irgendwie bin ich doch ein Cheerleader … Wir sind schon ein echtes Dreamteam, findet ihr nicht?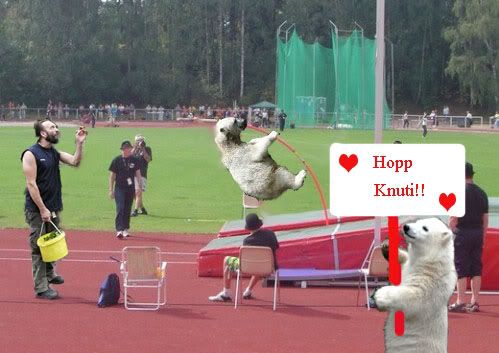 Pole volt is very exciting. I think it's very funny everybody tries to jump over the batten when it's much easier to go under it!! Daddy is always with me when I train - you never know when you get hungry....Look, there's a faithful supporter, too. Is it....oh yes, it's Flocke, I think I'm going to blush....
Stabhochsprung ist richtig aufregend. Es ist schon sehr komisch, wenn alle versuchen, über die Stange zu springen, wenn es doch viel einfacher wäre, unter ihr durchzugehen! Wenn ich trainiere, ist Papi immer bei mir - man weiß ja nie, wann man Hunger bekommt … Schaut mal, da ist noch jemand, der mich unterstützt. Es ist … o ja, es ist Flocke. Ich glaube, jetzt werde ich rot …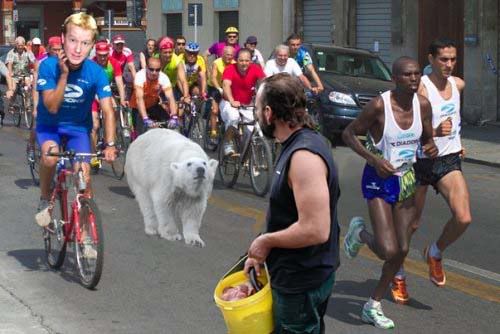 Marathon is my favourite discipline because I can eat and drink so much during the race. Dr Schüle follows me with his bike to make sure I won't get too tired and Daddy is always well positioned with his yellow bucket. There's no one who can throw fish like my Daddy!
To run 100 meters is nonsense if you ask me!! You have no chance to eat anything! I'm going to have a serious discussion with Monsieur Rogge and suggest there will be a little snackbreak in the future. The same goes for all the short distances.
I was asked to participate as a pacemaker for the long distance runners. Usually the pacemaker runs ahead but I was supposed to chase the runners! They are always wanting to beat the world record, hahaa....
Marathon ist meine Lieblingsdisziplin, weil ich während des Laufens so viel essen und trinken kann. Dr. Schüle folgt mir auf seinem Fahrrad und passt auf, dass ich nicht zu müde werde, und Papi steht mit seinem gelben Eimer immer an der richtigen Stelle. Niemand kann so gut Fische werfen wie mein Papi!
Der Hundertmeterlauf ist Quatsch, wenn ihr mich fragt!! Man hat überhaupt keine Chance, etwas zu essen! Ich werde mich mal ernsthaft mit Monsieur Rogge unterhalten und ihm vorschlagen, für die Zukunft eine kleine Pause für einen Imbiss anzusetzen. Dasselbe gilt für alle Kurzstrecken.
Man hat mich gefragt, ob ich nicht den Schrittmacher für die Langstreckenläufer machen wollte. Normalerweise läuft der Schrittmacher vorneweg, aber mir hat man vorgeschlagen, die Läufer zu jagen! Immer soll der Weltrekord gebrochen werden, hahaa …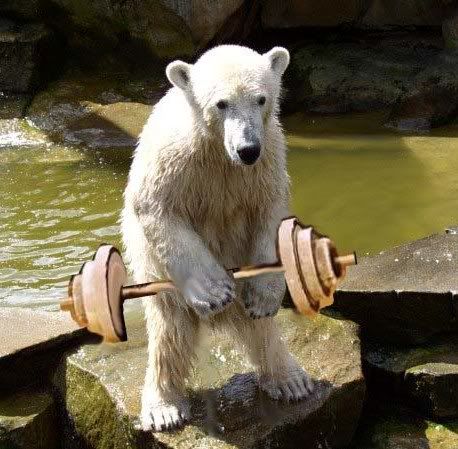 Oh boy, is this thing heavy!! Maybe I should use both paws....I definitely need to eat more! I might have mentioned this before but I say it once again: A growing bear needs lots of energy!!!
Mannomann, ist das Ding hier schwer! Vielleicht sollte ich beide Tatzen benutzen … Ich muss wirklich mehr essen! Vielleicht habe ich das schon mal erwähnt, aber ich sag's nochmal: Ein Bär im Wachsen braucht eine Menge Energie!!!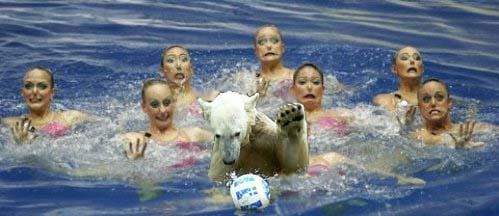 Peek-a-poooooo!!!! Why are you screaming? I just wanted to surprise you!
Kuckuck!!!! Was schreit ihr so? Ich wollte euch doch nur überraschen!
You know, horses are the only animals allowed to participate in the Knulympic Games. I will discuss this with Monsieur Rogge. I demand we bears must have a chance, too. When I was just a little boy I used to go horseback riding but maybe I'm a bit too heavy now. Maybe this little horse could go bearback riding?? I wonder if Auntie Gitta could find me a horse that is big and strong enough....
Wisst ihr, Pferde sind die einzigen Tiere, die an den Knulympischen Spielen teilnehmen dürfen. Darüber werde ich mal mit Monsieur Rogge diskutieren. Ich fordere, dass man auch Bären eine Chance gibt. Als ich noch ein kleiner Junge war, bin ich geritten, aber kann sein, dass ich jetzt dafür ein bisschen zu schwer bin. Vielleicht könnte dieses Pony hier auf einem Bärenrücken reiten?? Ich frage mich, ob Tante Gitta für mich ein Pferd auftreiben könnte, das groß und stark genug ist …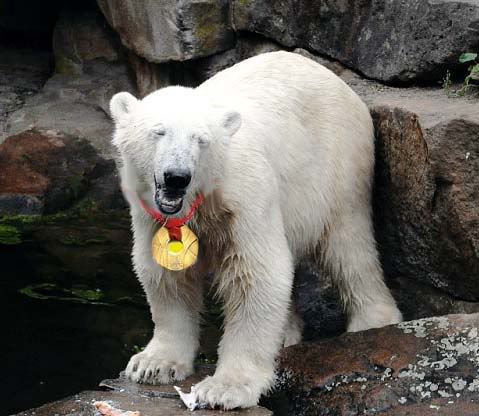 The Knutians all over the world think I'm the number one and rewarded me with a gold medail!  Thank you all - I love my medail because I'm worth it!!!
Für die Knutianer rund um die Welt bin ich die Nummer eins, und sie haben mir eine Goldmedaille verliehen. Dank an euch alle - ich liebe meine Medaille. Die habe ich ja schließlich auch verdient!!!