Doro II
 I have never been particularly interested in polar bears and didn't know the first thing about them. All this has changed since I first met Knuti, the epitome of the "Berliner Bär".
I do translation work (E/G only) and proof reading stuff and live with my hubby and our beloved kitty cat in a small village near a well-known ski resort. I love animals, nature, reading, backpacking and of course blogging in Knuti's blog and the Knuipe where our dear fluffy waiter with his ever growling tummy is always welcoming us with generous bear hugs, even though there's hardly ever any food left!
And I'm very proud of being a Knutian, a Knuipian and a member of the Wild Herd!

Andrea & Viktor (Berlin)
My wife Andrea and I are fans of Knuti from the very beginning. But we became real Knutians and part of the wild herd no more than this year, when I began to write in the Blogs and started my own Website with Knut photos. In March (was it really March?) I stumbled upon the Knuipe for the first time - and I came back more frequently, Andrea is accompanying me from time to time. We love the Knuipe not only because of their unique fluffy waiter, but also because the other Knuipians.
When we are not in the Knuipe or in the Zoo or on a holiday trip, we are living in Kleinmachnow, a nice suburb of Bearlin. I am doing my job as a manager in an IT company, and Andrea is working in the administration of an enterprise which is producing franking machines. Taking pictures is my most important and time consuming hobby. Taking pictures of Knuti is my passion! And it makes me happy if I can make you happy with my pictures.
See you in the Knuipe  - Viktor
Elke Frank aka Knutilda (Osterode)
My mother and me
I live in Osterode am Harz, it is a little town where live 27.000 people. The foto is from Knutis 1 1/2 year birthday. I am interested in Knuti ever since he was born. My hobbies are blogging,  listening to the music and watching TV.
Hugs from Knutilda
Yeo (Berlin)


Hi! I'm Yeo or Yeoman - The Starship Pilot! I visit the Zoo as often as I can - this picture was taken during one of my visits. I work as a night nurse in a nursing home for elderly people. I love Knuti and I'm very pleased that he has accepted some toys I've given him!
Bear hugs from Yeo
 Gitta
My passion is the nature, especially all animals. I love Dusty and I'm a devoted fan from Knuti.
My hobbies are playing with my dog, reading, blogging and decorating house and garden.
I'm biology teacher and very interested in behavioural research.
And in my heart, I am a Berliner. I'm glad to be a member of the Wild Herd, a Knuipian and a Knutian. I like very much to relax in the Knuipe.
Danielle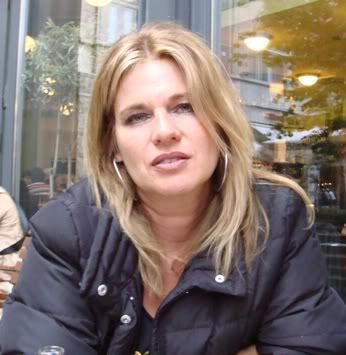 Hihi, I would like to visit the Knuipe, too!!
Maybe you'll even find a job for me? I can also wash the dishes!
Have a nice day! Knuti Hugs, Danielle


Bea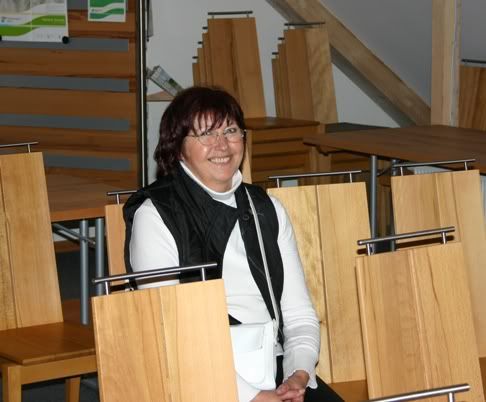 In April 2007 I started reading Knuts Blog. But I did my first posting on 5. december ,very confused about myself that I send  birthday wishes to an icebear. Since then I am a real Knutian ,and as often as possible I travel to Berlin, to visit Knut. I met there a lot of other very nice Knutians and we spend always a very funny time together.
I like travelling,reading,of course nature and all kind of animals including spider,ants and beetles.And speciall I love a certain white bear with a fluffy fur,a very cute black nose,and the gentlest eyes I ever saw.

Big hugs from Bea 
Sylvia (Wattenscheid)
Hello, my dears!
My name is Sylvia. I live in Wattenscheid (the biggest surburb from Bochum) in the wonderful "Ruhrgebiet", North-Rhine-Westfalia, Gernmany, since 21 years. I was born 1957 in Wesel at the loveley river rhine. My mother is a "Rheinische Frohnatur" - so am I - and my father was hungarian.
I am a librarian, married since 23 years with my beloved husband Klaus, a teacher. We don´t have any children - it´s a very pity! But we have a love-bird named Pluto, who speaks some words. I love animals of any sort except spiders and snakes !!!
I saw Knut on TV when he first appeared to the world and he stole my heart. Since then I feel like a member of the "Wild Herde". I have seen Knuti "live at the Berlin Zoo" at the 19. of March 2008. It was breathtaking and marvellous! The foto has been taken by Gudrun (beloved mom of Simone R.) during my BÄRlin visit - thanks a lot!
My "further" hobbies are electronic music - no Techno!I´m a the "boss" of the only european electronic Music Club.schallwende. (www.schallwen.de). And i love to make radioshows, which . I have done 17 years long since last October.
I am proud to be a Knutian!
Love and bear hugs, sincerly yours Sylvia