Dear Gitta!
May I call you Gitta? I only use the word 'Aunt' when I'm talking to old ladies...and you look so young!
Let me tell you that the cake was delicious! Ooops! I didn't mean to say that because Mervi gave me strict orders not to make any quality control today. However, I couldn't risk you, dear Gitta, eating something that might be bad so I deciced to taste a little. I swear I don't know what happened - suddenly the cake had vanished!! Don't worry - I've ordered four more cakes - you can have one of them. You must admit that I'm a generous kind of fellow.
There are some bottles of champagne, too and mind you, I haven't tasted anything!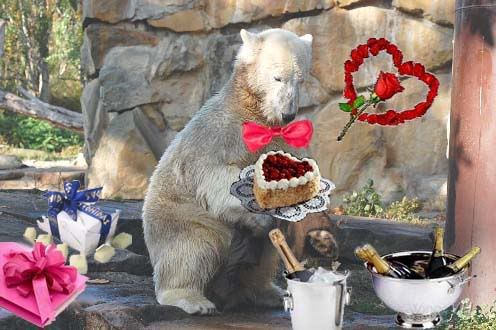 Roses are red, violets are blue
Sugar is sweet and so are you!
Your humble servant, The Waiter
PS. The whole Knutian Family (assisted by the Beatles) is singing 'Happy Birthday' for you!
GITTAS GEBURTSTAG by Teddybärenmutti

- Bussy, Bussy, Bussy Gitta!

- Viel Glueck Gitta!

- Darf ich dich umarmen Liebe Gitta!

- WO IST HERR OBER?

- Ich weiss es nicht?

- Nicht im Eiskeller?

- Nicht im Weinkeller?

- Nicht im Garten?

- WOOO IIIST HEEEERRRR OOOBER?

- HEERRRRR OOOOBEEERRR? WOOOOO BIIIIIST DUUUU?

- Wir sollen hier Gittas GROSSEN TAG feiern und Herr ober ist verschwunden?

- Wir arme!!!!!!!!!!!!!!!!!!

----------------------------------------------

KNUUTEEN AAABEND ALLERSEITS!

- Herr Ober! Herr Ober!

- Darf ich an euch meine Freundin Fräulein Flocke vorstellen.

- Fräulein Flocke! Herzlich willkommen!!!!!

- Bitte setzen sie sich hier an Gitta und Dusty.

- Sekt`?

- Lieber Knut. Meine Pfoten sind schon etwas so und soo..... so viel Sekt heute.

- Liebe Flocke! Ich bin stark. Tatze in Tatze. Natuerlich trinken wir Sekt fuer Tante - öööpsch- Gittas Freude.

- Prosit Gitta! Prosit Frau Gitta!

- Entschuldige uns, bitte, aber wir wollten so gerne - nur wir alleine - eine romantische Abend feiern.

- Natuerlich. Wir können hier Selbstbedienung organisieren.

- Winke, Winke. Seien sie gluecklich!!!!!!!

- So schön. Unser herr Ober ist so --- snif... nyyyh... snif...Hoffentlich wird er ... sie snif.. gluecklich.

- Wie romantisch!!!!!!

PROSIT GITTA!